The summer is over and it's almost time to kick off the new season. As a result, we are winding up this series on the 1984 Ohio State football team with a special treat: an interview. The Honorary Captain for the Navy game is former wide receiver Mike Lanese, a starter on the 1984 squad. It was his first year as a starter, and he finished 3rd on the team in receptions. Lanese also started as a senior in 1985 and was a team captain that season. In addition to his football accomplishments, he was also impressive off the field as a 2-time Academic All-American and Rhodes Scholar.
11W: When you think back to the 1984 season, do you think of it as a season of great accomplishments, or do you most remember the disappointments and the near misses?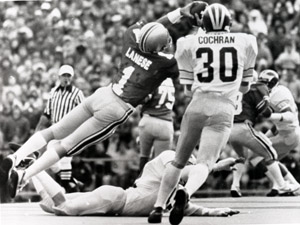 Lanese: I think it's both, really. As a team, we saw remarkable progress across the board. We were nationally ranked and respected. And we had tremendous talent on both sides of the ball - guys who've become legends at Ohio State and beyond. But as I gained distance and perspective from that team, I started to become a little disappointed that we didn't take advantage of a wonderful opportunity. Not many teams have a legitimate chance to win a National Championship. Some guys never play for a team with a shot. We had more talent in 1984 than in any other year of my career. Guys like Keith Byars, Pepper Johnson, Cris Carter, Jim Lachey. All that talent and we just couldn't pull it together. Maybe it just wasn't meant to be, or the stars weren't aligned properly, or the football gods simply deemed us unworthy. There are thousands of things we could have done differently, and the what if's can drive you crazy. In any case, here we are 25 years later and I'm still frustrated about it.
11W: Who are some of your favorite guys from that team? Did any of them end up becoming life-long friends?
Lanese: As a team, we all got along pretty well. I still stay in touch with most of the guys. But as we've gone in different directions, it's gotten harder. But thanks to social networking sites such as Facebook and Buckeye Legends, I think we're finally starting to find each other again.
11W: In the Iowa game, you caught a long touchdown pass from Keith Byars. Were you surprised that the pass was on target, or did he always show that kind of accuracy when you practiced the play?
Lanese: I don't think "surprised" adequately captures the emotion. "Shocked" might be a better word. Despite what Keith will tell you about his arm, the reality is that if our starting quarterback went down, and we then proceeded to lose all of our backup QB's, and then anyone who ever played quarterback in high school, junior high or pee-wee football was either suspended or injured, Keith would still appear nowhere on the QB depth chart.
11W: As the season went on, did you and the other players become conscious of the fact that one of your teammates was having a Heisman-type season? Did the hype ever become a distraction?
Lanese: We actually had the sense that Keith could win the Heisman before the season began. He'd always been a star, and he was coming off a pretty good sophomore year. So we knew that, with our talented offensive line and run-oriented offense, he'd have a pretty good shot. It was natural for him to be in the spotlight. And we couldn't have been happier. In all honesty, one of the biggest disappointments of my career was watching Doug Flutie pick up the trophy in New York. No offense to a 5'2" quarterback with a single, lucky play on his resume, but Keith deserved to win that year.
11W: Let's talk about the Michigan game. The final score was 21-6, but people looking at that score would have no idea how close the game really was. On one very important drive late in the game, you made a sensational catch that kept the drive alive on 3rd down and was later identified as the play of the game (scroll to the 6:30 mark on the video). I had an excellent view of it from my seat in the South Stands, but could you describe the play for the benefit of our readers?
Lanese: I've always said that it's amazing how a few rotations of the ball can alter how fans remember a game for years to come. What most people forget is that I almost cost Ohio State the game with a fumble at the end of the first half. I came back to make a catch later in the game that allowed us to keep a key drive alive. For any history majors out there, it's yet another example of how historical complexity is often overly simplified to fit a narrative. I actually tried to capture some of the nuance of the game in a chapter I wrote for a book called Game of My Life - Ohio State. I posted the chapter in a blog I write for Buckeye Legends.
11W: The Rose Bowl is hyped as a great experience for players even outside of the actual game. Can you give us your impressions of the Rose Bowl experience in general?
Lanese: I don't have fond memories of the Rose Bowl. I was coming off of a little injury from one of the bowl practices, and I didn't play very well. So I think I've tried to block the experience from my conscious memory. If there's one game that I'd like a do-over on, that's it.
11W: In order to come back against USC, the OSU offense had to throw the ball quite a bit. Do you enjoy games like that or would you rather have just won the game even if you didn't touch the ball a lot?
Lanese: Hmmm....I'm trying to think of a way to answer this question in a way that doesn't make me sound like a selfish, egotistical prima donna...let's just say that I really enjoyed the games we won in which I touched the ball a lot. But not because I was a selfish, egotistical prima donna. It was just that I was always open. Unlike Cris Carter, I was open on each and every pass pattern I ever ran. Just for the record, it's completely untrue that Cris and I ever lobbied our position coach (an obscure figure in Ohio State history called Jim Tressel) to get the ball. It's a shame that Cris never amounted to much as a receiver.
11W: You ultimately earned a Rhodes scholarship while at OSU. Can you describe the process you went through, what you ultimately studied at Oxford, and how it affected the rest of your life? What do you think of Myron Rolle's decision to put off the NFL so that he can participate in the program?
Lanese: The process has changed a little since I went through. If I remember correctly, we had to prepare a fairly exhaustive application, with attached letters of recommendation and a personal essay. I then went through series of intense interviews at the university, state and regional levels. Back then the regional interview was in Chicago, so that's where I found out I was one of 32 to be elected to the Rhodes that year. I went on to study Philosophy, Politics and Economics at Worcester College, Oxford.
As for Myron Rolle, I think he made the right choice. I don't know where he would have gone in the NFL and would kind of impact he would have had there. But if he's good enough, and he still has the desire to play, he might be able to pick up where he left off as a defensive back. I know the money is significantly better now than it was 25 years ago, so the decision would be tough for any 21 year-old kid. But the Rhodes really transcends all of that. Rolle's been given a gift. If you believe what Cecil Rhodes said about the scholarship, and I mostly do, then we're supposed to do big things with the opportunity. It looks like Rolle believes he can do more with a Rhodes experience than without it. Good for him.
11W: You have talked plainly about how much you hate Michigan, and for that we salute you. But has your hatred for the school up north diminished any during the last few years due to our recent dominance in the series?
Lanese: No. The last few years have only confirmed what I've been saying all along. Our job won't be complete until the responsible authorities cancel the program, raze the stadium, and revoke the university's accreditation.
11W: In the book Game of My Life, you said that your wife (who co-authored the book) is not much of a football fan. Has anything changed in that regard since the publication of the book? If not, is there any hope of bringing her around?
Lanese: I think she took a little heat for that. So on the off chance that she'll ever read this, I'll just say that she's a wonderful wife and mother, and I love her more than life itself. Even if she doesn't know the difference between a halfback pass and a ham sandwich.
11W: What's your prediction for the upcoming football season?
Lanese: Despite the big losses on both sides of ball, I'm looking for a strong season. I'm predicting that we'll probably win another Big Ten championship. It's too early to tell, however, whether we can make a run at much more. USC will have something to say about that.
For the past two years my blog has been pretty tough on the offensive line, so I think the focus has to be on improvement up-front. From what I can tell so far, it looks like we have better personnel this year. But you never know what's going to happen until you line up and play against guys who are going full speed. It'll be tough to replace Beanie Wells and two starting receivers. So don't look for the offense to be a well-oiled machine early. As everyone has already said, Terrelle Pryor will have to carry the offense on his shoulders--especially during the first half of the season. I'm excited to see Cris's kid, Duron at wide receiver. I've heard good things about him.