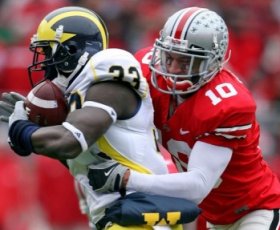 Last week we took a look at the offense in search of which player would offer up the most surprising season. Your votes indicated Duron Carter would be the guy most likely to make a name for himself and with what we've seen and heard so far, there's no reason to believe that won't be the case.
This week, we turn our attention to the defense where seven starters return, not to mention some major depth across the front and volumes of highly rated talent in the back seven. With lots of players expected to find themselves in the rotation, there will be plenty of guys with a chance to show their wares.
Among the veterans, there's a few names that could jump out at you as being potential surprises. Maybe you think Lawrence Wilson will come all the way back from a second major surgery and have a dominating season off the edge. Or, sticking with the line, you think Heyward will emerge into the league's best hybrid tackle/end giving the Buckeye front some versatility. At linebacker, Rolle isn't likely to sneak up on anyone with the unbelievable hype he's getting from fans lately - he'd have to be first team all-conference to be considered a surprise. In my eyes, the best chance to surprise among the elder statesmen would be Hines from the Star position. He's got the talent and with the experience gained in '08, he's primed to make the jump to all-league performer. If not Hines, the only other potential veteran surprise could be from the Torrence/Amos battle at corner.
Considering the amount of youth expected to see larger roles this season, I suspect many of you will focus on pups like Sabino or Williams after the flashes they showed a year ago. None of this accounts for any of the guys primed to give us a first glimpse of what they can do. Let's take a look at some of the leading candidates for surprise defensive player...
Etienne Sabino: Moeller's situation was Sabino's gain as the sophomore has found himself slotted as a starter in the base defense after a year of impressive work on kick coverage as a freshman. The company line has been there's no questioning his physical gifts, it's simply a matter of getting the mental aspect down. Now that the staff seems intent on keeping him at one LB spot, it appears the sky's the limit for the 6'3", 232 lb. Army All-American who only got better with experience as a true frosh.
Garrett Goebel: Somewhat lost in the sea of names across the front, Goebel could see action in the regular rotation at defensive tackle. He more than held his own in our glimpse during the jersey scrimmage and we like former state wrestling champions on the d-line.
Nathan Williams: Williams came on strong last season before an alleged sticky fingers incident earned him some time in Tressel's doghouse. His strength is clearly rushing the QB and he gives the Buckeyes a terrific complement to Thaddeus in obvious passing situations. Also, he provides depth if the coaches choose to utilize Heyward more at tackle. Lastly, he's a nice insurance policy if Wilson's injuries prove to have gotten the best of him.
Storm Klein: It will take more injuries for Klein to see meaningful snaps at LB this year but he appears to be the most talked about freshman LB with Bell coming in a close second. Klein was impressive in the jersey scrimmage recovering a fumble and tipping a pass and it's highly likely he could be a special teams missile this fall.
Torrence/Amos: Might one these guys step up and give us an Antonio Smith type season? I'd take that from Amos but my gut tells me Torrence is capable of much more and he could very well be the guy in the secondary that surprises us most. Think about it, he split time playing baseball during the summer in the past but this year he saw an opportunity to start so he shelved baseball and now he's looking like the front runner to pair with Chekwa. In the few live glimpses we've seen, he showed he's not afraid to support the run and he's got the 6'1" frame that we like.
Jermale Hines: It might be a little strange putting him on the list based on what we've seen but there's a great chance he takes his play to another level in the form of taking Anderson Russell's job and becoming an all-conference performer. I see it in him and I love his blend of size and speed.