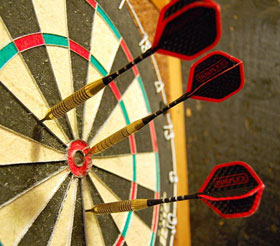 Setting aside the absurdity of conducting a poll before fall camps have even kicked off, the Coaches released their initial poll of the 2009 season on Friday and the Buckeyes checked in 6th1. The top five: Gators, Longhorns, Sooners, Trojans and Tide.
That spot is probably a bit generous -- the Coaches Poll is always high on tradition (see the #24 spot in their 2008 preseason poll). Don't be surprised to see the Buckeyes down a spot or two when the AP poll comes out and maybe close to the edge of the top ten when the BlogPoll debuts later this month.
But this is where the reward part of the USC proposition kicks in. Sure, you might get annihilated (and odds are you will), but if you beat the Trojans and you win out, the polls become irrelevant. For now, Ohio State's placement in polls is fun to talk about, but little else2 until games are actually played, including that huge gut check in week two.
Another fun aspect to the polls is trend-spotting, and mid-majors are starting to muscle the Big East out of the rankings. Between laughs, allow the Big Ten's meager showing of three teams bring you back down. Five used to be routine. Is it crazy to worry about population shifts and their impact on college football?
Mumme Time: On top of our duties with the BlogPoll, we'll also be participating in Get the Picture's Mumme Poll this season. The poll is a little different: the first votes aren't even cast until after week six games are played and "the Mumme Poll has its voters submit their lists of the top twelve teams in the country, without ranking (other than to designate the top five of those twelve, for use as a tiebreaker)".
There are three things that make this work: we're fans of late-start polling, submitting teams in batches of peers could reduce some bias and the move allows us to expand the 11W brand and consumer experience into fertile Dixie. WE ARE COMING FOR YOU, PIGGLY WIGGLY.
1 The Wolverines received one point in ORV, meaning one coach thinks they're the 25th best team in the land. Would he?
2 DISNEY/ABC/ESPN/TOPPS/BRAWNDO may disagree. After all, four vs six matchups are typically prime time gold.