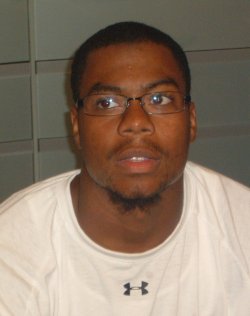 The Buckeyes held their bi-annual jersey scrimmage today in Ohio Stadium with the defense claiming the Scarlet jerseys for the rest of camp with a 52-44 victory. The scoring system for the scrimmage pitting the offense against the defense is really meaningless with the real victory coming in the form of no serious injuries during the roughly two hour session.
Corey and I were lucky enough to be on hand for both the scrimmage and the subsequent interview session so he took the offense and I took the defense. Our observations were without the aid of replay and stat sheets but we were still able to take plenty of notes for you to peruse.
In general, the defense controlled the majority of the afternoon thanks to the defensive line's ability to control an offensive line that looked very much a work in progress especially without Boren and no legit left tackle emerging during the session. The run blocking was decent but the pass blocking and blitz pickups were shaky. It's probably worth considering the old adage that defense is almost always further along than offense at this stage of camp but still, I'm wondering if the offense made the defense look even better than they were. That said, I liked what I saw on defense. For now, let me try to decipher my own handwriting and organize it for you...
Formations At this point in camp it's safe to say the full defense has yet to be installed but we did see a lot of what we saw last year. That includes a whole lot of base 4-3 looks and a lot of nickel depending on the offensive sets. The coverage was at least 90% zone, which was to be expected considering the lack of a shutdown corner and no clear cut starter opposite Chekwa. More on that later. The good news is the defense blitzed effectively early and often however they didn't need a blitz to generate heat on the quarterbacks.
Starters
DE: Heyward, Thaddeus Maximus
DT: Worthington, Larimore
LB: Homan, Rolle, Sabino
CB: Chekwa, Amos
S: Russell, Coleman
Note: Nickel adds Hines and removes Sabino
Defensive Line As noted, the defensive line had a strong day against an offensive line that showed some holes. Wilson didn't play but the rest of the ends had no problem getting pressure off the edge. Heyward started at end then moved to tackle for a portion of one possession but spent most of his time on the outside before twisting an ankle toward the end of the day. It appeared the twist wasn't serious since he didn't go back to the locker room early, instead sitting on the bench with ice. Also, in the post game interviews Tressel said it was nothing serious and Worthington jokingly noted Heyward's girlfriend is on the volleyball team and she'll probably be babying him the next couple days but that the big man was fine.
Thaddeus Maximus was unstoppable for much of the day registering at least two legit sacks as he continously exposed weaknesses on the edges of the o-line. His motor is just like you remember from last year and appears infectious. Soloman Thomas also had a nice day, albeit mostly against the twos and threes, while Nathan Williams didn't jump out at me against the ones and twos. Keith Wells also spent some time in the backfield. Overall, the ends looked very good collectively.
In the middle, Worthington had a sack while he and Larimore appeared to do a serviceable job clogging running lanes while Garret Goebel saw a ton of snaps with the ones and twos. His playing time was increased by the fact Denlinger was playing both ways - as an extra blocking tight end - and Goebel took advantage of the opportunity helping slow the run on numerous occasions. The offense found inconsistent running room especially up the gut. Goebel appears to figure into the rotation at this point but I'm not sure about Mobley.
Collectively, this was probably the standout group on defense with the LB's just behind. I liked how easily they got pressure without a blitz which we know will be key as the Buckeyes figure to employ lots of zone to protect the corners in coverage. Without stats and adding in the "touch" sacks on Pryor they probably had at least six but I know definitely Gibson had two legit sacks with Cam and Worthington getting one each. They also supported the run fairly well and didn't over pursue allowing cutback lanes except for late in the scrimmage when they let Pentello get loose for a 33 yard TD as he simulated the Navy attack. One last note was Worthington lining up at end and dropping into coverage a few times. Interesting. I remember him doing that sporadically from the tackle spot last year but not off the edge.
Linebackers Brian Rolle was an absolute beast. As noted, he started with Homan and Sabino and he was clearly the most active LB out there when it was ones against ones. He was flying around and I love how low he attacks runners. With his size, the key may be his ability to shed blockers when the defensive line doesn't offer protection because he gave very little reason to be concerned with his ability to find the ball and lay wood. With what I saw from Rolle and Sabino, I'm wondering if Spitler will get his job back.
Homan barely played though I don't think anything was wrong with him. He might have played only three series which makes sense considering I'm sure Heacock wanted to get as much tape / snaps as possible for Sabino, Sweat, Klein, Bell and Whiting. The second team LB's were Sweat, Klein and Tony Jackson while Bell, Whiting and Newsome were third team however the lineups jumbled as the day wore on.
Focusing on the young guys, I know Bell was getting lots of run amongst the players leading up to the scrimmage and he probably played more snaps with the twos but I was most impressed with Jordan Whiting. Granted, he did most of his damage going against the twos and threes but he all over the field from the Mike spot. He showed sure tackling ability and he filled the hole with bad intentions. In particular, he blew up a shovel pass late in the day drawing some love from the crowd. He's going to be a player down the road.
Sweat saw lots of snaps with the ones but didn't jump out at me. Not to say he had a bad day, just not the impact / tackles I saw from some of the other guys. Klein grabbed a fumble and tipped a pass. Overall, the LB's look loaded with potential and talent which is impressive considering two projected starters going into camp weren't on the field.
Secondary It was hard to get a good read on this group due to the effectiveness of the defensive line combined with the offensive play calling not really testing these guys. Most of the passes attempted were short and wide excepting a few 15 yard in routes and a couple long attempts that were poorly thrown.
Amos got the start opposite Chekwa and was serviceable but I'd give Torrence a slight edge solely on today's performance. I thought Torrence was a little more physical, especially in run support, including a big lick on Boom in which both of them left the field woozy. He did give up an intermediate (18 yards, maybe) completion to Posey. Amos got burnt badly by Carter late in the afternoon on a streak up the sideline but Bauserman's pass was severely overthrown. If on target, it was an easy six. The starters did yield Pryor's short TD pass to Ballard in the back of the end zone but I couldn't see who had the coverage.
Staying at corner, Chekwa had a quiet day. He gave up a 3rd down slant to Posey but was solid otherwise both through the air and run support although he really wasn't challenged from a pass defense perspective. C.J. Barnett saw some time but didn't get much action and Donnie Evege also saw a lot of snaps. Travis Howard was in shorts and shoulder pads, participating in pre-scrimmage drills only.
At safety, Coleman showed terrific coverage breaking up a 15 yard pass from Pryor to Posey while Russell had a quiet day. Hines played a ton of snaps but saw little traffic through the air excepting very tight coverage on Sanzenbacher leading to another Pryor incompletion. Looking at the reserves, it appears redshirt freshman Orhian Johnson is climbing the depth chart. He started with the twos but saw lots of time with the ones, usually paired with senior Aaron Gant. I know Gant's been a 'depth-guy' for a long time but he looked pretty good. He's definitely not afraid to pop pads. Freshman Jaime Wood also saw some time at safety, mostly with the threes.
Bottom line, I'd be surprised if we don't see another season of predominantly zone coverage and based on the experience at corner, I can't fault that approach to start the season. I just wish the QB's had better protection so we could've had more of an opportunity to watch the secondary hand off receivers from zone to zone.
Stay tuned for Corey's offensive observations later tonight.