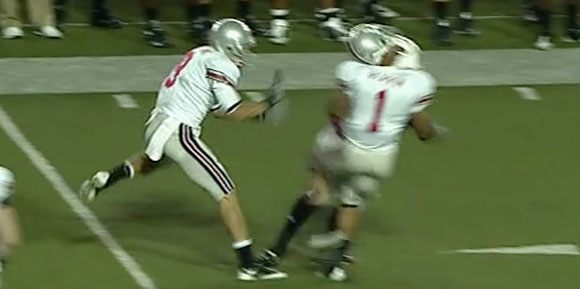 Not to on Valai too much1, as he might remind some of a certain mesh-seeking missile that patrolled the secondary in Columbus 30 years ago, but a helmet-to-helmet hit like the one he dropped on Boom in Madison last season may now lead to a game suspension.
New Big Ten officiating head Bill Carollo is making it a point of emphasis:
With the intent of educating officials, coaches and players on how the rules will be interpreted and called, he also plans on targeting the headhunters, who may be guilty of using their heads as "sledgehammers" in helmet-to-helmet collisions -- a point of emphasis again this season.

"Now we're putting a little more teeth into it (the enforcement)," said Carollo, 57, a UW-Milwaukee alum and Brookfield native who has spent the last 20 seasons as a side judge and referee in the National Football League. "Even if we don't throw a penalty flag -- or even if we do, but don't toss the guy during the game -- it's going to be subject for review on Monday and Tuesday, and he (the player) can be held out the following week. That's the commissioner's call."
Don't expect Delaney to rule on one of this every week, but it will certainly be interesting to see what kind of precedent is set by early decisions.
(HT: Doc Saturday)
1 Valai's other devastating hits were for the most part clean, including the triple piledriver he was part of helping to separate Dane from the ball just nine minutes after Boom wobbled off the field. He's one of just a handful of opponents we actively covet.