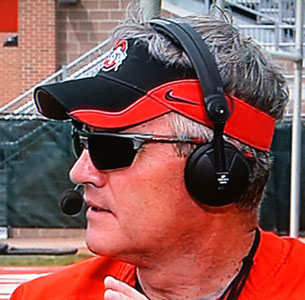 Unfortunately we weren't on hand yesterday, but the good news is that people that are paid to write things for us to link to were in attendance. And they took copious notes.
That and the Big Ten Network brought practice into our living rooms for one night at least, so between everything printed and what we saw, here's our takeaway from day two of fall camp.
Offense
Pryor is humongous. That's all anyone wants to talk about. He had a little trouble on some short throws Tuesday, if he gets any bigger, keepers up the gut will be his strike of choice.
The starting line right now is Adams/Miller-Boren-Brewster-Browning-Cordle. The photos showed it Sunday, and video seemed to confirm it, but the group appears to be in better shape (vaguely remember hearing this last year, though, so grain of salt and all). The second line looks like this: Adams/Miller-Smith-Moses-Blankenship-Shugarts. Third team was Longo-Mewhort-Sika-Linsley and Hall. Further, in the link above, Ken Gordon points out that Tressel seemed to say the only real competition on the line was at the LT spot. Bryant Browning, guard superstar, take us to the promised land.
Oh yeah, BLOCKING SLEDS. W00t!
Posey is banged-up and with Small still waiting on the magic grade unicorn to make an appearance, the starting receivers were Dane, Flash and Washington. I love those guys, but trotting those three out against USC will cause me to wet myself.
Duron Carter keeps turning heads. It would only be fitting for Cris Carter's son to see playing time right away, wouldn't it?
Fullbacks aren't going to get any love this year. And that's fine.
So, if the Buckeyes had to field a team for a game tomorrow, it might look a little bit like this. If Adams takes care of business, we have an ABC line.
Washington
 
Adams/
Miller
Boren
Brewster
Browning
Cordle
Ballard
   
Sanzenbacher
 
 
Thomas
    
 
Pryor
 
 
 
Herron
 
Defense
Heyward is playing some end, which is cool, but any idea where Lawrence Wilson was yesterday? Still, the starting front four of Gibson-Larimore-Worthington-Heyward should be formidable. And Nathan Williams and Wilson give the staff the luxury of moving Heyward around a bit. Speaking of, Williams and Gibson lining up opposite each other on 3rd downs this year is going to be a lot of fun.
Rolle looks to be the biggest immediate beneficiary of Moeller's injury (I felt creepy just typing that) as he's now manning the Mike (middle) linebacker position. On passing downs, Hines would typically come in for him as a 5th defensive back with Homan and Spitler staying on the field.
Your 2nd team linebackers: Sabino, Klein and Sweat. Storm keeps impressing.
Chekwa is manning the boundary corner spot with Amos and Torrence still battling for the field corner position. Corey Brown and the gaggle of freshman DBs are providing depth.
Speaking of young defensive backs, Ohrian Johnson turned some heads with an interception and by scooping up a blocked kick (Heyward swatted a Pettrey FG).
Again, if the staff had to throw a team out there for a game tomorrow, the defense might look a little like this in their base 4-3:
 
Gibson
 
Larimore
 
Worthington
 
Heyward
 
 
Homan (W)
 
Rolle (M)
 
Spitler (S)
 
 
Amos/
Torrence (F)
 
Chekwa (B)
 
 
Russell
 
Coleman
 
Elsewhere
Doc Saturday throws some cold water on the talk of Pryor's 4.33 forty time. He's right, as usual, but 4.33 or not, Pryor could very well be the fastest QB in the nation. Oh, he's also 6-6/240 and eats Toyotas for breakfast... Sticking with quarterbacks, freshman Matt Barkley is getting his chance in LA after Aaron Corp rolled a knee. The faithful are optimistic, but does it really matter who the Trojans line up at QB? Last season, USC was plagued with a jock itch epedimic and star running back Joe McKnight tried on two separate occasions to shelve himself for the year before the season even started. And 35-3 still happened.