103 Buckeyes checked into the University Plaza Hotel for the start of fall camp yesterday afternoon (photos: here, here, here and here). Later today, the first session will kick off and the team will spend the next three weeks bonding and working towards whatever goals they have set for themselves this season.
Unfortunately, all anyone wanted to talk about were the players not at camp. Rumored academic casualties Ray Small and Robert Rose did not report, but the biggest news of the day was the surprise announcement that Tyler Moeller was in the hospital.
What started as a simple announcement saying he was out and could even be day-to-day quickly evolved throughout the day with a confirmation that Moeller was in fact at the University Medical Center, and that the injury was dangerous with his season perhaps in doubt, to finally the good news that he may be released from the hospital late Sunday.
News on what exactly caused the injury, confirmed to be a head injury, was just as scattered. University officials and players are being tight-lipped on the circumstances and theories are everywhere from something that happened during 7-on-7 drills to a sucker punch at a bar in Florida. Tressel is supposed to meet with the media Tuesday morning, so hopefully we'll have further clarification1.
Above anything else, your thoughts have to be with Moeller. The news of his release from the hospital is encouraging and he'll be in great hands, but head injuries aren't to be trifled with. His return will likely be something they can't pin a date on and you can only hope he makes it back soon.
Given his ability to cover in space and wreak havoc on blitzes, the fourth year junior was expected to see a lot of minutes this season and was penciled in as a starter heading into camp. He was everywhere in the spring game, leading his side with 8 tackles, one of which included a 13 yard sack. This is a huge loss, if even for one game.
Fortunately, the back seven is pretty deep and someone else will step up if called upon. Whether it's in the form of more playing time for Hines or Sabino getting more snaps, Moeller being out for any period of time is not exactly END TIMES turf, but the team will miss what he brings to blitz packages.
Small & Rose Still in Limbo
Small and Rose continue to exist at the intersection of rumor and curious statements. Rose was mum when pressed about his status last week and Small's father, when reached Sunday, said Small's history grade is in, but it's waiting to post.
That's fine and all, but the team is only holding open two spots and one of those is surely reserved for Moeller. It's just a hunch, but the last spot should be Small's. Assuming he makes the grade.
His Music isn't Just Music, It's Medicine
The youth movement looks like promising young football players. And it also looks a little Kanye.
Other photo highlights: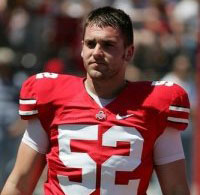 The Chronicles of Gar
Fanbases love their unheralded players with exotic names. Michigan has (now heralded) punter Zoltan Mesko, Penn State has Graham Zug and LSU has the legendary Barkevious Mingo.
Buckeye fans have been lacking here, but no longer. Enter Gar Chappelear. The Grove City product is a backup longsnapper and is our new cause partie temps. As such, he will have the full support of the 11W empire going forward and will no doubt rise up for a momentum changing play at least once in his career.
BTN Party Bus in Town on Tuesday
The Big Ten Network will be in town Tuesday to observe practice sessions and a 90-minute feature will be broadcast that evening at 10pm. As tight as things are normally run at WHAC, this is a real treat for the 99.9% of us that will never step near the practice field. Speaking of, we will probably find out soon whether camp remains open to the press like it was during the spring.
Finally, if you missed AJ Trapasso's sick fake punt and run in the Hall of Fame game yesterday, do yourself a favor and check it out (queue to :27). Simply amazing.
1 I vaguely remember hearing about trouble coming out of Florida and the possibility of losing a player earlier in the summer. The poster wouldn't offer much else and ended up driving the rest of the commenters into speculation that one of the Florida kids was in trouble, so I didn't pay much attention to it at the time. But that would imply the org has a higher level of secrecy than the CIA (which is possible) and it doesn't explain the sudden trip to the hospital on Sunday.