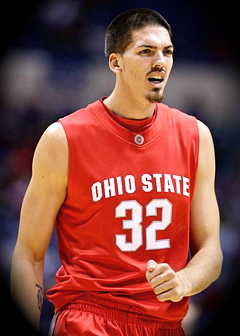 As Chris mentioned briefly in his post yesterday, BJ Mullens will hear his name called Thursday night at the 2009 NBA Draft in Madison Square Garden. While it is not a question of if the 7-foot freshman will be drafted, there is a big question of where he will be selected.
Just a year ago, another promising 7-foot Buckeye frosh, Kosta Koufos, left OSU to pursue a career in "The League". After a strong Big Ten Tournament and NIT Championship run, Kosta seemed to be in prime position to be a lottery selection, and was possibly even mentioned by some to be a top 10 pick. Unfortunately for Koufos he fell to 23rd in the first round out of 30 picks and averaged a mere 4.9 points and 2.7 rebounds per contest while appearing in just 48 out of 82 games (spent some time in the NBDL).
BJ Mullens enters the draft just a year later and while he edges Kosta with an NCAA Tournament appearance, his accolades on the court are far below what everyone's favorite Greek did in Columbus. Mullens averaged a pedestrian 8.8 points and 4.7 rebounds per game after coming into school as Rivals #1 rated player. You can argue he played just 20.3 minutes per game, but the bottom line is that he never earned more time than that. His play consisted of a familiar routine to OSU fans in which he was inexistent on the defensive end of the court, took plays off throughout the game, failed to make a basket that was not a dunk, and a display of butter fingers underneath the hoop, all contributing to his inability to grab more minutes off the bench, thus stunting his growth as a player.
Clearly Mullens was not ready to leave, but due to his financial situation and his high ceiling of potential it was a no-brainer that he would depart for the NBA. Now that the draft is just a day away, the question is which team will take a chance on BJ's boom or bust potential? DraftExpress has BJ headed to Phoenix at #14, as the final lottery pick, nbadraft.net and FanHouse have him going #15 to Detroit, RealGM has him #17 to Philadelphia, and BJ himself claims to have a promise to slip no further than #16 to the Bulls. So which of these destinations will actually get to host BJ and his crustache?
I personally think BJ will be selected just outside of the lottery to the Pistons at #15. If you look at Detroit's make-up and early season move of trading Chauncy Billups to Denver, Joe Dumars is trying to rebuild around the core of players he has drafted and acquired in recent years. He even turned down a trade yesterday that would have brought in Rajon Rondo and Ray Allen in order to preserve guard Rodney Stuckey's future in Motown. With Stuckey, Aaron Afflalo, Walter Sharpe, and Jason Maxiell, along with Richard Hamilton and Tayshaun Prince, the Pistons have a nice group of players to build around and are only missing a center. Mullens is certainly a player who can fill that void for Joe Dumars and is the only big worth taking in the middle of the first round.
While I wish BJ came back for one more year in Columbus to hone his game and bring OSU back to the elite national level, it seems like he made the right move for him and his family. Whether he is a mid-round pick this year or a top ten selection next year, it won't affect his future. The only thing that will determine Mullens' success on the court at the next level is his determination to want to be the best. The talent is there, but will it ever be able to be tapped into? That is a question NBA executives will have to ask themselves before they make their picks on Thursday night.