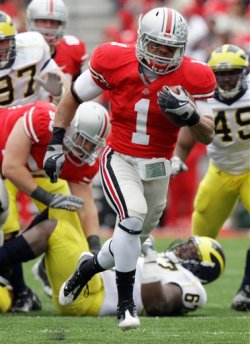 If you're like me, the Phil Steele Preview magazine is one of the highlights of the summer. It's released when the NBA and NHL finals are ending and is so full of information, it's gets you through the boredom of baseball season.
It takes you 2 months just to digest all the stats and fine print before the season and then becomes your holy book throughout the fall.
After thumbing through this year's version, there are a few things that stood out for not only the Buckeyes, but the Big Ten landscape as a whole for the 2009 season.
He revealed the Buckeyes as his preseason #10 team on his site yesterday and predicts OSU will finish behind Penn State in the B10 race. With the unanswered questions facing the Bucks this season and the star power of PSU, it's tough to argue. But with USC at home and their first 9 games being played in the state of Ohio or Indiana, the Bucks will be hovering around the top 10 all year.
Since LiC is not draft eligible, he doesn't make the top 60 list for quarterbacks, but Juice checks in at 17, Adam Weber at 20 and Daryl Clark at 23. He does have TP earning 2nd team all conference honors, so you have to figure he would rank in the upper teens nationally. That could be a good sign for Bucks fans, as Phil had Colt McCoy 15th and Mark Sanchez 17th in last year's rankings, but then again Todd Boeckman was 7th, one spot ahead of Heisman winner Sam Bradford. The B10 only have the 3 QB's ranked after having 8 last year, even though the top 6 in passing efficiency return.
The most curious choice in his predictions was Brandon Saine as the 3rd team All Conference running back, with Boom Herron being excluded from any list. I know Saine had a great spring, but Boom is going to get 1,000 yards this season, if he gets close to 200 carries. With TP taking some carries and the potential threat of a freshman rising up, Saine may have to get most of his production catching passes out of the backfield.
Of course neither one of the above will happen, if the offensive line decides to stink it up for a 3rd straight year. He has them as the 16th best unit in the nation, with only Iowa (6) ranking better. Even though he hasn't played a game there, Cordle is listed as the 16th best tackle and Boren is the 10 best guard. It makes me nervous as hell that their best lineman is a Michigan transfer, no one has seized the left tackle spot and only Mike Brewster returns to his position. The potential good news comes in the arrival of Marcus Hall, who could make an immediate impact as the 5th best incoming tackle.
It comes at no surprise the highest ranked unit is the defensive line, which comes in 5th nationally. He has all 4 defensive ends ranked in his top 36; Heyward at 10, Gibson at 29, Rose at 34 and Wilson at 36, while Larimore comes in as the 22nd best tackle and Worthington is 28th. Remember, Denlinger and Garrett Goebel were the ones getting a ton of praise coming out of the spring.
Joining the line as tops in the conference is the secondary and special teams, with the linebackers coming in behind Penn State, Iowa and Michigan State.
I know it's one man's opinion (with a shit ton of research to back it up), but what do you think of his Buckeye rankings? Where would you put TP nationally? Do you think Boom will get a 1,000? How much stock to you put into preseason rankings?
The season is 11 weeks from Saturday and I know my summer kick offs tonight with back-to-back Phish shows, so opening day will be here soon. If you want to seem smart when the SEC or Michigan trolls stop by, go out and pick up Steele's Holy Book, you still have time to digest the first 200 pages.