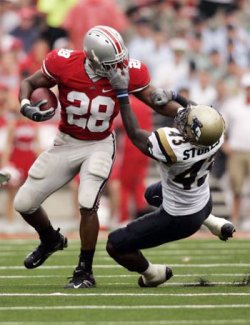 It is judgment week for the former Buckeyes who are off to the NFL, finally wrapping up an eventful pre-draft journey, that started with Alex Boone showcasing his drinking skills before the combine, a few disappointing performances at the combine and redemption for most at OSU's pro day.
The Buckeyes could have as many as 9 players drafted, with 6 of them going on the first day. It has been projected since last year that Beanie, Malcolm and Little Animal will be first rounders, but they were victims of the disappointing efforts in Indianapolis. Their draft stock slipped a bit after that, but of course it is anyone's guess where they land and those three know there is nothing wrong with first round money.
Beyond the big 3, is a couple of wild cards that have seen both of their stocks rise since the Fiesta Bowl. Donald Washington impressed at the combine, setting a record for vertical jump at 45" and backing it up with a 4.49 in the 40. While Brian Robiskie lived up to his hype of crisp route running and catching everything thrown his way, while posting a faster than expected 40 time.
Potential First Rounders
It looks like Malcolm Jenkins and Beanie Wells are going to battle it out for the first Buckeye taken. Jenkins ran a disappointing 4.55 at Indy, but improved to a 4.48-4.51 when the scouts came to Columbus. After the combine, teams and scouts weren't quite sure where he would fit into an NFL roster, either at corner or safety. This is the time period Vontae Davis jumped ahead of Jenkins in most mock drafts, but after teams reviewed game film and learned more about Malcolm's character, they know he will be a playmaker regardless of position.
The most popular opinion of Jenkins' destination seems to fall into the 14-16 range with New Orleans, Houston and San Diego drafting in succession. I could see the Saints and Texans needing some defensive help, but if he falls past the middle of the first, I think he becomes an instant steal. His versatility alone could help a borderline defense who is a couple of players away, reach that next level.
While Jenkins seems to have pulled ahead in becoming the first corner taken, Beanie's position is still being debated by the talking heads on TV and around the internets. Wells posted a slow 4.59 at the combines, but returned to the 4.4 range at pro day. Knowshon Moreno had similar combine numbers and is more proficient catching out of the backfield, so some teams might have him higher on their board.
The local fan base of Browns and Bengals fans might want Beanie to stay in the Buckeye state, but memories of last year's injuries make them hesitant and both teams have more pressing defensive needs. However, when healthy he could instantly help both those teams. The most recent buzz has Beanie going to New Orleans at #14, but I find that hard to believe with Pierre Thomas and Reggie Bush already there and the Saints being burned by Antonio Pittman 2 years ago.
Unless a team trades up to take him, the most likely destination, for me is #15 with Houston. The Texans struck it big with speedy Steve Slaton last year, who ran for 1,282 yards, but Ryan Moats and Chris Brown are the backups after they let Ahman Green walk. Wells would be the perfect compliment to Slaton and the Texan's zone blocking scheme, allowing them to wear teams down and keep double teams on Andre Johnson to a minimum.
James Laurinaitis has a chance to fall out of the first round, after posting a 4.8 in Indy and watching the rise of Aaron Curry, Rey Maualuga, Clay Matthews and Brian Cushing. Lil' Animal did come back to the 4.7 range at pro day, but slipping to late in the first will be a better situation for him.
There seems to be 3 popular choices for JL's new town; Detroit, Tennessee and Baltimore. Detroit has many needs, but possess the 20th and 33rd pick. If they wait until pick 33, Baltimore may snag him at 26 to help replace their aging LB corps or Tennessee at 30, to help offset the loss of Albert Haynesworth. Either way, he is going to an established defense, where the immediate impact expectations will be to a lesser degree. Whereas, the 20th pick seems a bit high for Laurinaitis, and the Lions may figure with the Titans and Ravens also needing WR help, he just may fall into their lap to start the second round.
Second and Third Rounders
The next Buckeye that will hear his named called this weekend should be Brian Robiskie, who looks to be pegged for the 2nd round. Robo has seen his stock steadily climb, after running in the 4.5 range at both Indy and the pro day. With his dad coaching for Atlanta and Brian coming from Ohio State, teams know he is a safe pick and could blossom into a #2 or 3 receiver right away.
He has worked out for Chicago, Miami, Denver and visited Dallas, all teams with picks in the 44-51 range and Miami possessing an additional pick at 56. There could be as many as 5 wide-outs taken in the first round and Robiskie is projected to be the 7th or 8th WR taken overall. If there isn't the expected run for WR's in the first round, Robo could slip into the third, but the further he may fall, the better his value becomes. I have made no secrets though about my desire for the Bears to take him with the 49th selection.
Marcus Freeman was a guy who flew under the radar in his Buckeye career, playing in the shadows of JL, Gholston and Jenkins. He battled injuries throughout most of last season, but recovered in time to make an impact at the Fiesta Bowl and during practice week at the Senior Bowl. Freeman ran a 4.57 at Indy, which was good for 7th best among his position, but then improved that time to 4.5 during pro day, with one team clocking him as low as 4.47. He also tied for the most reps on the bench with 30, the highest vertical at 37 inches and the quickest 20 yard shuttle at the combine.
Like Robo, Freeman is considered a safe pick and could be a value in the third round. I will not pretend to know exactly where he is going to fall, but whether it is a 4-3 or 3-4 scheme, Marcus should be able to come in and add depth or compete for a starting job instantly.
Beside Brian Hartline, Donald Washington received the most criticism for leaving Ohio State a year early. Washington quickly erased those doubts with his combine performance and put his name on the radar of NFL teams. They are obsessed with numbers and a 6' corner with a 45" vertical jump might just be enough to get Washington into the 3rd round. However, D-Wash only picked off 2 passes in his OSU career and was in Tressel's doghouse on more than one occasion for his alleged love of chronic, so he could also be considered a risk if taken on the first day.
It will be interesting to see how this draft plays out for the former Buckeyes. NFL teams have reached for some of Tressel's veterans in recent years, including Hawk, Whitner, Carpenter, Ginn and Gholston. This class won 4 straight B10 titles at a time when the talent was down conference wide and they also failed in their last 5 attempts against better teams, including 3 BCS games to close out their careers. But they are high character guys and there is something to be said for that nowadays in the new NFL, where off the field problems will get you suspended, forcing teams to give more consideration to personal makeup.