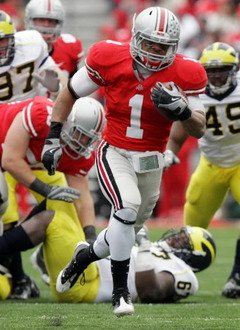 Well, maybe not slighted entirely but it sure has been a quiet spring when you consider Boom Herron is firmly cemented as the starting tailback after filling in admirably for the often dinged Beanie Wells last season.
Coming into last season, the biggest knock on Boom was a lack of size but he's cured that problem adding 10 pounds bringing his current weight to around 205. The added weight combined with an already tough running style should do nothing but increase his durability and effectiveness between the tackles.
Still, with a currently healthy Brandon Saine fairing well in spring drills, Boom seems to be almost an afterthought on various sites and in the MSM. My guess is Boom researches what everyone is saying about him as much as the rest of the guys do (even if they don't want you to believe it) and hopefully the lack of talk about a guy who averaged 4.9 yards per carry last season behind a ridiculous line combined with a painful passing attack is providing even more motivation to excel.
He has to at least find it interesting that he's not getting much run beyond some blurbs here and there while Saine, who even during rare occurrences of health mostly flashed a knack for finding tacklers like a heat seeking missile in real games, is getting mad love from the press.
Now, don't take that statement as hate on Saine because I'd love nothing more than for him to finally emerge as a consistent threat but he has to prove that he can. Boom has already done that. Of course, Boom still might not be a prototype 25 carries per game runner so somebody has to step up and Saine is obviously going to get the first shot at doing so. If his 15 carry, 77 yard performance in the jersey scrimmage is an indication of things to come, sign me up for the Saine fan club. But for now, I'd rather hang my hat on Boom being the guy to consistently produce.
So, what's the prevailing thought out there? Do you even agree that Boom isn't getting much run for a guy starting at tailback for The Ohio State University?
I know many of you are excited about Saine's spring but do you feel he can stay healthy and if so, based on what you've seen, is that enough to be a true compliment to Boom and Pryor?
I know I definitely like the thought of Saine as a receiver out of the backfield (A Meggett 3rd down type) but he's never shown much between the tackles prompting many, including myself on numerous occasions to refer to him as only a track star in shoulder pads. Do you truly see him as an all-purpose running back or as more of a specialist? To me, it's a no-brainer for Boom to be the primary rusher with Pryor as the real "backup". Then, Saine and any freshmen that might want to step it up can duke it out from there.