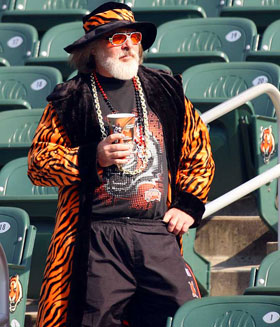 Word out of Cincinnati is that the Bengals are considering Beanie Wells with the 6th pick in the draft.
The Bengals have a need for a playmaker at the running back position behind starter Cedric Benson and Wells is scheduled to visit the organization in Cincinnati the first week of April.
While some Bengals fans will no doubt be thrilled with this news, the rest of us (and quite a few Cincinnati/Ohio State fans for that matter) are hoping he ends up just about anywhere but at Mike Brown's "franchise".
The bearer of this news is Carlos "Big C" Holmes of the Dayton Daily News, and he's been known to fluff a Buckeye or two in the past, so take the above report with a grain of salt, but we can certainly pray there's truth to his other assertion that Wells worked out for the Broncos yesterday. Beanie in Denver with that rushing culture could be a wonderful thing.
The blogger that never sleeps, ESPN's Adam Rittenberg, profiled five Big Ten assitants under the gun recently, and while he rightfully had Bollman at the top of the list, he's a little off with his view of how playcalling works in Columbus.
Bollman is a popular target for fan frustration regarding the Buckeyes' offense, though the criticism could be misguided. After all, head coach Jim Tressel calls the plays.
Um... Bollman does call the plays, but JT has veto rights, sir. And while the pain of not scoring an offensive touchdown in three games last season stings to no end, I must be getting a little soft in my age as I'm starting to wonder if that wasn't more of a function of breaking in a rookie quarterback with little passing experience combined with perhaps the worst offensive line group in the last 20 years at Ohio State. Then again, he's also the o-line coach, so...