With a win over Minnesota on Saturday, the Buckeyes now have a week off before they take on Bucky at the Kohl Center this Saturday night in front of ESPN's College Gameday. While the free time this week can be assumed to be a positive for Matta's squad, there are also some negatives to taking a full week off before heading up to the Cheesehead state. Let's take a look at both sides of this issue.
Positives
Coming off a week in which they played and defeated two Top 25 teams in Purdue and Minnesota, the Bucks could probably use a week off. This week can give them time to rest up any minor injuries or soreness they may have, as well as give Evan Turner a chance to rest, as he has played at least 39 minutes in the last seven games. The Buckeyes have also fared well with a week between games this season, defeating Butler, who is now #15 in the newest rankings, on December 13 after playing Notre Dame on December 6. The most important issue at hand, though, is the amount of preparation time OSU will get leading up to Saturday's contest.
OSU is 0-3 under Thad Matta in Madison and will be looking to break the testy Badgers' success at home under Bo Ryan (Ryan is 116-11 at home at UW). Ryan's squad has underachieved this year at 12-9 (3-6), but came up with big wins at home against Illinois and at Happy Valley this past weekend and is looking to build up a March Madness resume with wins over Iowa tonight and against the 'Young Bucks' on Saturday. What better way to go into this game, if you're the OSU coaching staff, then to have a full week to watch video and prepare your players in practice to prey on the Badgers' weaknesses and come up with a game plan that has the perfect formula to win.
Usually the coaches are not blessed with this much time, as in the Big Ten you normally play on Tuesday or Wednesday and then on Saturday or Sunday of a week. Thad and his staff have a chance to show how good of coaches they are by preparing this team in practice for an entire week with one mission on their minds: Beat the Badgers. If Ohio State comes out lousy and lays a goose egg like they have many times this season (see: here and here), there is no one to blame but the coaching staff for not taking advantage of a great scheduling break in the middle of the conference slate.
Negatives
While getting a chance to rest up and have a full week to game plan for Wisco certainly won't hurt anyone, there is something to be said about the momentum a team has when they have won four games in a row and have just moved up from #26 to #20 in the RPI. While I really like how the Buckeyes have a chance to look at film and prepare for the Badgers for an entire week, I just can't help but worry about this young team losing focus and sitting back in the driver's seat like they have done many times before during this campaign. The basketball Bucks have coasted into both the West Virginia and Illinois games this season after stringing together an impressive run of victories, and have given us no reason to believe this week will be any different. Maybe the freshman and sophomores have matured since earlier in the year, but even so, it is easy for the players to see this as a week off rather than an opportunity to better themselves on an individual and team level. After all, these kids are just in college and have their school work and other extra curricular activities on their minds, in addition to the hours they put forth in the gym.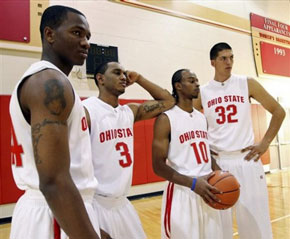 The Buckeyes need to take the momentum that has been built up in the last two weeks and run with it. There is no substitute for the energy and charisma that a team who is playing good basketball brings to the court and the Buckeyes cannot afford to lose these characteristics when they head on the road, especially to a venue as hostile as the Kohl Center. While having the week off will give the team plenty of practice time, there is no better way to keep your team as hot as the Buckeyes have been than to keep playing in live game action, and this bye week could cool the Bucks off a little bit. OSU is playing it's best basketball of the year, so why stop now?
What do you guys think? Is the week off before the Wisconsin game beneficial to Ohio State at this point in the season or will stopping their momentum during this win streak set them back a step?