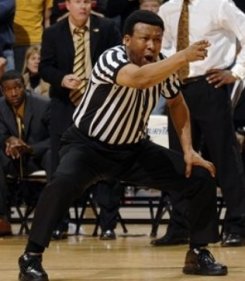 The Buckeyes lost the game (75-50) and their composure facing the tall order of trying to beat a solid Purdue team on the road combined with the incompetent officiating of Ed Hightower.
To be clear, Purdue was (is) the superior team and deserved to win but I don't know that the Lakers could've gone into West Lafayette and got a win in the face of Hightower's incompetent showmanship, er, officiating.
And props to ESPN's Stephen Bardo for doing what few announcers will do. He continuously called out Hightower's bad calls and totally unnecessary antics accentuating calls showing again he cares more about being on TV than he does anything else.
The time has come for the NCAA to do something about his act. Problem is, he's obviously considered a strong official in some higher up circles as evidenced by his appearances at the Final Four. A quick sampling of his shenanigans today includes:
Awarding Purdue possession after blatantly throwing the ball away on a fast break with OSU trailing 26-14.
Under the bucket, he was right in front of a call in which the ball bounced off Chris Kramer and out of bounds with OSU trailing 37-30. Kramer even dropped his hands to the floor in disgust because he knew it was off him but Hightower still blew it drawing a smile from Kramer.
In the first half, a questionable failure to reset the shot clock after Purdue nearly stole the ball led to OSU calling a timeout but upon the possession restart, the shot clock wasn't reset and of course OSU shot themselves in the foot by failing to get off a shot before the clock ran out.
My favorite BS call of the day was a phantom moving screen call on Evan Turner with 10:24 left in the game. The whistle gave Turner his fourth foul. Unbelievable call. And of course, Eddie got all theatrical making the most of his airtime on the horrific call.
One last grasp at unnecessary airtime occurred when he stopped the game to counsel BJ Mullens after he dunked on Robbie Hummel and gave him a very brief scowl.
Again, for any Purdue fans especially, I want to reiterate this is not about sour grapes because Purdue would've won this game if the players reffed the game themselves. This is about the fact it's time for something to be done about the continued incompetence of Hightower. The college game deserves better. The players deserve better. It's time to hang up the whistle. He's so bad he even takes some of the stank off Ted Valentine. That, my friends, is hard to do.
With that off my chest, the game itself was equally frustrating as OSU failed to show much heart outside of a roughly four minute span to close the first half in which they held Purdue to 0/6 from the floor cutting a 32-20 lead to 32-26 at the half before scoring the first four points of the second half further trimming the deficit to 32-30.
The two point game was short lived, however, as Purdue delivered a 17-2 haymaker spanning six minutes to go up 49-32 with 12:56 to play. E'Twaun Moore sparked the run with two triples and Robbie Hummel added four points while OSU went into a death rattle shooting 0/4 with three turnovers. Game over.
Even when OSU drew to 32-30 there was little reason to believe they would keep it close considering the disparity in rebounds (32-17), especially on the offensive glass (13-5), leading to countless second chance points. Purdue scored 10 points on putbacks in the first half alone while the Buckeyes couldn't throw it in the ocean.
The first half was especially brutal as Wil Buford and Jon Diebler combined to make 1/11 shots leaving Turner (10 pts) and P.J. Hill (7 pts) responsible for the heavy lifting. Equally dreadful was the combined efforts of Mullens and Dallas Invisidale. The dynamic duo posted first half numbers of two points and two boards. Sweet.
For the game, Turner led the way with 14 points though he had another five turnovers. No other Buckeye reached double figures but it should be noted Hill and Jeremie Simmons combined for 14 points (6/10 FG). Too bad they had four turnovers against three assists.
The worst performance of the day, outside of Hollywood Hightower, belonged to Diebler. He finished with six points on 2/12 shooting bringing his points per game average against the two best teams in the conference to 8.7 against a season average of 11.4 per contest.
I'm sure there's more worth mentioning about today's game but I don't have the energy. I guess I'll just take solace in the fact OSU had no business winning this game nor did the fans have any reason to think winning at Purdue was realistic so it's time to move on.
Matta and company must turn the page because while a 25 point blowout certainly doesn't help the resume, wins at Iowa and over Northwestern should still be enough to secure an NCAA berth.