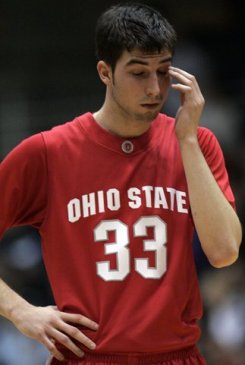 You can bet the Buckeye faithful are going to be fired up after Ohio State blew a 40-28 lead early in the second half surrendering a 21-3 run over an eight minute span before a John Shurna three pointer with :03 gave Northwestern a 72-69 victory.
Jon Diebler did all he could pouring in 28 points thanks to a career high eight triples and a clutch steal and layup tying the game at 69 with :28 remaining setting up Shurna's game winner.
It should've never came down to a last shot but the efficient Wildcats continued to find open looks against a porous OSU zone hitting 13/25 treys including a 7/12 effort from Craig Moore (23 pts) and a 4/6 night from Kevin Coble (26 pts).
Failure to identify and challenge the Northwestern perimeter shooters and 15 turnovers offset OSU's 29-18 edge on the glass.
The most error prone Buckeye was Evan Turner who coughed it up eight times but at least he was consistent with four in each half. Turner did finish with 14 points and six rips but the turnovers and two missed free throws in the final seven minutes of a tight game didn't help the cause.
Turner has racked up 14 turnovers during the two game losing streak proving once again this team will go only as far as he can take them.
In the post, B.J. Mullens came away with 11 points and 11 boards but struggled in the second half with only four points and three boards while Dallas Invisi-dale produced only four points and 3 boards in 13 minutes. Surprisingly, Matta used Kyle Madsen to chew up 14 minutes and he responded with six points on 3/3 shooting.
OSU scored enough points to win but it's going to be a tough stretch run if William Buford can't get back on track. The freshman made only 1/8 shots, a three cutting the Wildcat lead to 69-67 with :58 left, extending his shooting slump to a dismal 11/33 over the last three games.
Buford's worst shooting night as a Buckeye ended a four game streak in double figures though he has reached double figures in 10 of 13 conference tilts.
The much maligned point guard duo produced a mixed bag as Jeremie Simmons fared a little better than his previous three games (0 asst, 5 TO) with three points (1/5 FG), four assists and zero turnovers while P.J. Hill added zero points and two assists against one turnover. Seriously, can we trade these guys in for a rack of old worn Wilson Jet's? I digress...
The early second half scoring drought came out of nowhere as the Buckeyes broke open a 21-21 game closing the first half on a 16-7 run to take a 37-28 lead into the locker room.
Diebler was large early on hitting 5/6 triples giving him 15 of OSU's first 21 points. Turner and Mullens took it from there keying the 16-7 run with seven and five points, respectively. Mullens threw one down off a nifty feed from Turner giving OSU a 31-26 lead and hit 3/4 from the stripe thanks to establishing post position and forcing fouls. His efforts helped the Buckeyes generate 12 second chance points in the opening twenty minutes.
For the game, OSU shot 52% from the floor and from three land (10/19) but took 14 less shots.
With Penn State upsetting Illinois, the loss drops Ohio State into a three way tie for fifth place with the Illini on the slate Sunday at 1pm in the Schott.
All of a sudden OSU's tourney hopes are a little cloudy though they control their destiny with three straight games against teams ahead of them in the standings. After the Sunday home game against Illy, Penn State visits Tuesday before a Saturday roadie at Purdue. A trip to Iowa followed by the season finale at home to Northwestern closes out the regular season.
At 7-6 in conference, the Buckeyes might need three wins or else two wins plus a win in the conference tourney to secure a bid. That seems like an obtainable but very challenging task. Protecting home court could very well determine Ohio State's post season fate.