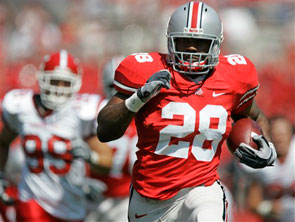 The NFL combine kicks off today and if you're unemployed, a student, or lucky enough to have a job with duties that include watching the NFL Network, you can tune into 25 hours of coverage beginning at 2:30PM ET.
Eight Buckeyes will be attending the event1, which is the third-most of any school (USC is sending 11 and LSU is sending nine), but Nader Abdallah, who wasn't invited to the combine, has seen his stock rise enough in recent weeks (thanks to stellar play in the Texas vs. the Nation game) and is looking like a potential late-round pick. Which is pretty awesome considering how he stepped up his play during the course of the season.
There are also some rumors bubbling that Jenkins needs to turn in a fast forty time or he's projecting at a safety at the next level, but I'll believe that when I see it. Given Ohio State's cornerback tradition, there's no doubt he can play the corner in the NFL.
Looking at the other Buckeyes going to the event, Beanie is being viewed as the second-best running back available behind Georgia's Moreno, and you can probably chalk that up to injury concerns. Had he avoided injuries while in Columbus, there's no doubt that he'd be a top-ten selection, but you reap what you sow, I guess.
Freeman is supposedly rising, while Laurinaitis may be falling (which matches up nicely with our notion that he was just slightly overrated during his time as a Buckeye). Robiskie is looking like a late-round pick, while Hartline and Washington are just hoping to show enough to warrant a pick.
And then there's Mr. Boone. After a less-than stellar final two seasons as a Buckeye, his stock was sliding, but after his incident from a few weeks ago, he's probably going to have to turn in a Mandarich-like combine to even appear on the radars of scouts and GMs. Wish him the best, but would not want to be him this weekend during the interview sessions.
So, what say you? Does Boone even stand a chance of getting drafted? Where do you see Beanie going? Jenkins? Freeman? How do you see Hartline's CFL career panning out?
Further reading:
1 The eight: Jenkins, Washington, Laurinaitis, Freeman, Robiskie, Hartline, Beanie and Boone.