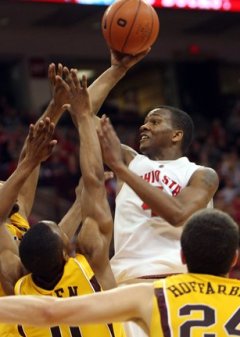 Ohio State earned a season split against #19 Minnesota and moved into third place in the conference (7-4) after posting a 64-58 victory tonight in the Schott.
The Buckeyes again used a balanced attack placing five in double figures led by Evan Turner's 18 points and 10 boards. Turner's night included a 10/12 effort from the stripe including 6/7 in the final 64 seconds to keep Minnesota at bay.
A decisive 14-5 run capped by back to back threes from Jeremie Simmons and Jon Diebler helped Ohio State increase a 32-31 lead to 46-36 with 8:50 to play.
The 10 point cushion would shrink to three at 55-52 with 3:46 remaining thanks to Minnesota's Blake Hoffarber. The lefty outscored Ohio State 16-9 over the five minute span hitting six triples and a free throw for a four point play.
Fed up with Hoffarber torching the zone, Matta switched to a box and one with Dielber and Wil Buford doing the chasing. The move paid off as Hoffarber took just one more shot the rest of the way, a missed three, while his mates combined to shoot a shaky 2/10 allowing Turner's free throws to secure the W.
Admittedly a personal whipping boy of mine at times this season due to a lack of consistent play, Diebler had a strong all around game with six rips, four steals and two assists to go along with 11 points on a chilly 4/11 from the field (3/10 treys).
Wil Buford added 11 points (5/14 FG), five rebounds and four steals and was instrumental in a 14-2 first half run with seven points helping OSU turn a 13-7 hole into a 21-15 lead with a little over six minutes remaining before intermission.
The Buckeyes would take a 29-26 lead into the locker room on the back of 9/14 shooting over the final 10 minutes of the half following a 3/14 effort to start the game.
Bigs Dallas Lauderdale and B.J. Mullens did their Casper impression early combining for two points and zero boards, each picking up two fouls before the 8:24 mark of the opening session.
Lauderdale never turned it around playing just 12 minutes though Mullens did get on track in the second half scoring eight of his 10 points plus six boards. Normally, I cringe at the thought of Kyle Madsen playing eight minutes but if Lauderdale continues to play uninspired ball, I have no issue with Matta sitting Dallas down in hopes of motivating him to action.
I don't expect Lauderdale to light up the scoreboard but he's failed to score more than five points in seven straight games and he grabbed more than five rebounds only once in 11 conference games. I'm not impressed.
Moving back outside, Simmons bounced back from a zero point showing Tuesday against the Boilers with 10 points on 4/5 shooting in 22 turnover free minutes while P.J. Hill turned it over twice with zero points in 17 minutes.
Though the Buckeyes were out rebounded 37-30 they did manage to hold the Gophers to 40% shooting including the aforementioned 2/10 clamp down in the final minutes helping cap a 2-0 week against ranked opponents. That should be enough to vault Matta's squad back into the Top 25 with a week off before heading to Madison next Saturday night.
What's the prevailing opinion out there? Myself, I think this is a bad time for a week off considering the momentum generated from a four game winning streak but Turner could certainly use a breather after playing 40 minutes in six of the last seven games (37 in the other).
With seven conference wins in hand, Ohio State should need just two more wins, three max, to earn a trip to the dance.
Who's left to play you ask? @Wisconsin, @ Northwestern, Illinois, Penn State, @ Purdue, @ Iowa and Northwestern. I think I see at least two damn-near-locks in there (@ Iowa, Northwestern) with a chance to win all the others though @ Purdue is probably the longest shot.
You gotta like the position the Buckeyes find themselves in considering Lighty's injury and to a much lesser degree Crater's transfer.
Speaking of Lighty, he didn't sound confident in the possibility of returning this season when asked before the game:
"I hope so," Lighty said when asked if he thought he would, "but I doubt it. (It's) taking longer (to heal) than I thought."
Personally, this doesn't faze me much. He needs to redshirt and get ready for next year.