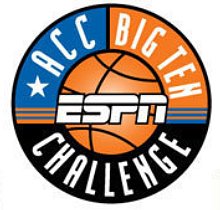 The 10th annual ACC / Big Ten Challenge began last night with Wisky getting the conference off to a good start going on the road to beat Va. Tech 74-72. In case you've been living in a cave, the ACC has won the challenge nine straight years making it not so much of a challenge anymore.
That said, there's some pretty tasty games this year including Duke at Purdue and North Carolina at Michigan State (Ford Field) in addition to Ohio State at Miami.
Though the ACC has owned this little ESPN production, the Big Ten has a more than respectable hoops pedigree when you consider their 39 Final Four appearances tie them with the ACC for the all time lead and the conference boasts the most NCAA Tournament bids in history (184). Since 2000, the Big Ten is also the only conference to send five different schools to the Final Four. In truth, the real disparity is typically the lack of quality depth in the Big Ten when compared to the more top-to-bottom competitive ACC.
This year, the Buckeyes draw a road tilt against Miami after losing home and home challenge games against North Carolina the previous two seasons. Ohio State hasn't faced the 'Canes since they knocked third seeded OSU out of the 2000 NCAA Tournament.
| # | Name | PTS | REB | ASST | POS | # | Name | PTS | REB | ASST |
| --- | --- | --- | --- | --- | --- | --- | --- | --- | --- | --- |
| 2 | Jeremie Simmons | 8.0 | 1.7 | 2.7 | G | 1 | Lance Hurdle | 8.3 | 1.0 | 2.0 |
| 33 | Jon Diebler | 10.3 | 3.0 | 2.0 | G | 33 | Jack McClinton | 15.8 | 1.8 | 2.8 |
| 21 | Evan Turner | 12.0 | 7.7 | 2.7 | F | 23 | James Dews | 6.4 | 2.6 | 0.8 |
| 23 | David Lighty | 6.7 | 4.0 | 1.3 | F | 20 | Cyrus McGowan | 8.6 | 5.4 | 0.8 |
| 52 | Dallas Lauderdale | 8.3 | 5.3 | 0.0 | C | 21 | Dwayne Collins | 13.6 | 10.0 | 1.2 |
Opponent
The 'Canes are balanced and extend the bench with nine players averaging at least 14 minutes per game thus far but senior guard Jack McClinton (15.8 pts) and 6'8" junior forward Dwayne Collins (13.6 pts, 10.0 reb) are the two guys Ohio State must first look to contain.
McClinton can get hot from deep as evidenced by his 5/8 performance in the Canes' lone loss to UConn three games ago while Collins has put up double-doubles of 18/16 and 16/14 this season albeit against lesser foes. Getting a hand in McClinton's face and keeping Collins off the offensive glass will be a key focuses of the Buckeye zone.
James Dews was also expected to shoulder some of the scoring load after averaging 10.3 per game last season but he's struggled out of the gate shooting just 36% from the field including 21% from deep. He did reach double figures with 10 against Stetson on Saturday.
Buckeye Breakdown:
Fresh off home wins over scrubs Samford, Bowling Green and Delaware State, the Buckeyes hit the road for the first time this season. Though this is only game four, stealing one on the road could end up being a factor come Selection Sunday and would be big for the team's confidence in advance of Saturday's game on a sorta neutral floor in Indianapolis against Notre Dame.
Winning in Coral Gables could prove difficult considering the huge disparity in experience. The Buckeye youth is well documented while Miami starts three seniors and two juniors. How well young and/or Division I inexperienced guys like Simmons, Crater, Mullens and Buford perform will be every bit as important as what the Buckeyes get from pseudo-veterans Lighty, Turner, Diebler and Lauderdale.
Minus the four turnovers, Turner is coming off probably his best game as a Buckeye. The sophomore recorded a career high 13 boards to go with 16 points, 5 steals and 4 assists in the win over Samford. On the young season, Turner is shooting 55% from the floor, 91% from the stripe, and he's stuffing the stat sheet at a crazy rate leading OSU in points, rebounds, assists and steals (3.3). A big game from Turner gives the Buckeyes a chance in this one.
Defensively, OSU will obviously play zone the entire game though it's somewhat uncertain if they will extend 2-2-1 full court pressure the full 40 minutes. The main reason I question whether or not the full court press will be used all game comes down to whether or not Thad is forced to shorten his bench and/or restrict minutes of reserves, specifically Crater.
I'm not down on him by any stretch but his decision making (specifically shot selection) was poor against Samford and his first road game could prove to be a learning experience. I'm extremely interested to see how he performs against a veteran backcourt.
On the baseline, Lauderdale might have his hands full with Collins. How well Lauderdale, Lighty and Turner compete on the glass will likely determine just how much we see of Mullens. We could see a little more of Lauderdale and Mullens on the floor together if they can get to the second half with a low foul count and Mullens can handle the physicality.
All things considered, it's hard to expect a win but I wouldn't at all be surprised to see Ohio State pull the upset if Diebler and company have a hot night beyond the arc.
Etc
Crater has just 2 turnovers in 46 minutes. The rub? Only 4 assists and he's yet to take a shot from inside the arc (6 FGA).
Conversely, Simmons has only 1 turnover in 72 minutes while recording 8 assists.
Under Matta, OSU is 97-4 when leading with 5 minutes left in the game.
The Buckeyes are ranked 28th in the latest Coaches Poll.