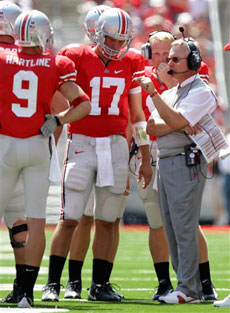 We didn't get to this before the game, but the Dispatch's Rob Oller spent some time talking to former Buckeyes about a variety of topics some of which included the play of the line, Bollman and the handling of the quarterback situation.
On the subject of the offensive line, the vets are seeing the same thing we are all seeing:
The verdict seems to be split between a lack of talent and lack of proper teaching. One thing all the former players agreed upon -- and there were several who played on the O-line way back when -- is that this year's line has shown little ability to fire off the ball and knock the defense backward.
And this disheartening nugget:
More than once I heard "They don't even use the blocking sled in practice anymore."
Awesome. They must still be doing that cross-training they mentioned doing in the offseason. Perhaps the line has been busy learning how to look defensive backs off before making a throw. Or about which hand to carry the ball with when you're ripping down the right sideline.
It was also interesting to note the chorus of players coming down on the decision to bench Boeckman. Dustin Fox does not appear to be a fan of how it was handled:
"You don't bench a sixth-year senior who led you to the national championship game after one bad game. I think I'd play Todd Boeckman. Those seniors came back and now you're putting the season in the hands of a freshman? That would be difficult to swallow."
I get that it must be tough for the seniors to see their final season turned over to a freshman quarterback who will be learning on the job, but those same seniors probably realize that if the line had come out and played like we all envisioned it would, Todd Boeckman would still be the starting quarterback and Pryor would be dazzling us in mop-up time.
To be fair, the article came out a day before Pryor torched the Wildcats, but the switch at quarterback was the right move. Further, the choice to forgo the platoon system has also been the correct one.
Pryor has the skill to succeed at this level and now he's collecting that other vital component, experience. He's almost fully assembled and then it's over.