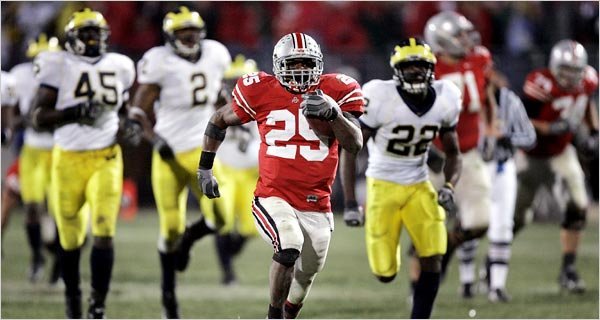 For the first time in a few weeks, this was actually a tough decision, as a handful of Buckeyes had performances that would win the award in other weeks.
Perhaps they sensed it was Michigan week. I know I started to get pumped on Sunday morning knowing that school was coming down to Cbus and Ohio State had a chance to send them to a 3-9 season.
Keeping the party going in Carolina was Chris Gamble and Na'il Diggs, as the defense clamped down when they had to en route to a 31-22 win over hapless Detroit. Gamble has become a tackling machine, getting credit for 10 tackles, 9 of which were the solo variety, while Diggs was in on 5 tackles and got his first interception since 2003. Carolina is now 8-2, good for second in the NFC.
Not be outdone on the defensive side, Nate Clements had 6 tackles and a pick in San Fransico's 35-16 victory over St. Louis. Wil Smith had 7 tackles and a sack in the Saints 30-20 win in Kansas City, while Jay Richardson's two tackles and a sack for a safety couldn't help the Raiders upset the Dolphins.
Antoine Winfield had 8 tackles in their 19-13 loss to Tampa Bay and A.J. Hawk teamed up with Ryan Pickett for 9 tackles in their 37-3 smackdown of the Bears. The win by Green Bay put them in a tie with the Bears and Vikings atop the NFC Norris.
The wide receivers were also feeling the extra juice from Michigan week, turning in perhaps their best collective effort all year. The least compelling performance was from Gonzo, who had only 2 catches for 35 yards in the Colts victory, but you can't expect too much when Marvin and Reggie combine for 16 grabs.
Santonio Holmes snagged 5 catches for 63 yards on a snowy Heinz Field, including a 13 yarder to put Pittsburgh in field goal position late in the fourth, in their 11-10 win. Michael Jenkins continued his steady improvement, hauling in 5 for 55, his fifth straight game with at least 50 yards receiving, in Atlanta's 24-20 loss to Denver. Jenkins is 83 yards away from his career high in yards, as he sits on 450 yards for the season.
I told you it was a tough task this week, as either one of the last two could have won it. Ted Ginn continued his strong play in Miami's 17-15 win over Oakland, leading the Dolphins with 4 catches for 51 yards and adding a slick 40 yard touchdown run. Ginn has now scored in back to back weeks, after not crossing the goal line in his first 8 games.
But when the dust settled, I had to go against by normal winning parameters and give some love to one of my all-time favorite Buckeyes, Antonio Pittman. There is no written tie breaker rule here, so I guess my bias wins out. Pitt brought Ohio State's rushing game back to life after the Maurice Clarett and Lydell Ross debacles, averaging 5.2 yards a carry in his Buckeye career and leaving school as the eighth leading rusher.
As mentioned, St. Louis went down to the 49ers and Pitt may not have reached the endzone, but he did turn in a career high 95 yards on 14 carries. There is no doubt the Rams need Stephen Jackson, losing the last four without him, but Antonio has stepped in and given two admirable games in that span and now has rushed for 224 yards on 57 carries. He has yet to sniff the end zone in his career, so winning this award should boost his confidence and carry him to a 500+ yard season.