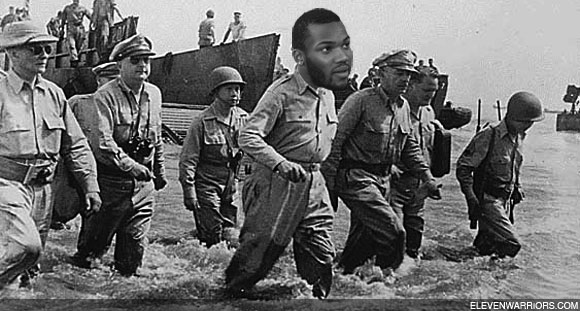 Should be a fun Saturday and a good test for the Buckeyes. The Gophers (and their fans) are riding high and are a step up from the Penguins, Bobcats and Trojans (lesser type). The defense, in particular, has a good chance to answer some critics today. I'm excited to see what Gibson can do getting a majority of the snaps at one of the end spots and it's also nice to watch the continued evolution of Hines -- the next great Buckeye safety (though judging from last week, Coleman has taken notice and would like to join him).
The first time you see Beanie and Pryor line up in the same backfield, you're excused for crapping yourself in excitement because you won't be alone. We know Posey, Thomas and Washington will get more snaps and all it would take right now would be one big game out of one of those burners to put possibly thrust them into a starting role. The message from the Boeckman situation is that no job is safe, regardless of how long you've been in the program and that's a refreshing change to see.
Say what you will about Tressel being stubborn and conservative, but he's making the changes the fans are demanding. Some, like the Pryor switch, were inevitable. But I like how he's tinkered with the offensive and defensive lines as well as at receiver. I have a feeling that this team is getting ready to go off.
---
Later in the day, there are some interesting matchups as conference play begins:
#10 Wisconsin @ Michigan, 3:30 - ABC
The big story heading into this one is that the Badgers have a really, really good shot to get their first win in Ann Arbor in 14 years. I think they'll get it done, but I have this creeping suspicion that Rodriguez will get one upset this year -- and the sooner the better. If he's upset-less by the time 11/22 rolls around, I'll be slightly more worried than I probably should be.
#8 Alabama @ #4 Georgia, 7:45 - ESPN
Georgia is busting out the black as they welcome Bear Saban and the Crimson Tide to Athens. The Dawgs are stacked and have played well this year, despite losing a little bit of ground in the rankings. Alabama has looked like an elite team and say what you will about Saban -- the guy can coach the college game. If nothing else, tune in for the Southern honies dotting the stands.
#24 Illinois @ #9 Penn State, 8:00 - ABC
On Thursday afternoon, Penn State looked like a great team. They had dominated everyone they played and put up mad points in the process. Then late Thursday night, Pacific time, they began to look even better, considering the pasting they administered to Oregon State way back in week two. If they do to Illinois what they've done to every other team they've played this season, they'll jump into the top five and deserve to be there.