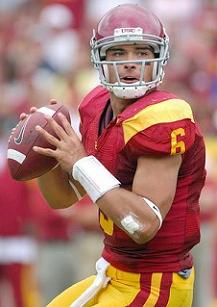 After Poe clued us all in, multiple news outlets later reported USC's Mark Sanchez was carted off the field today after dislocating his kneecap during a passing drill.
Though a dislocated kneecap sounds like something that would cause me to beg doctors to put me down, the Trojan quarterback could be back on the practice field by Monday.
The injury was such a fluke the other QB's thought he was joking with one continuing to run the drill with Sanchez writhing on the ground:
Corp, a redshirt freshman from Orange Lutheran High, said Sanchez "was three yards in front of me. I just hopped over him and kept running. At first I thought he was messing around. He said, 'I'm not joking here.' "
Sounds like Surfer Pete might have dodged a bullet but if for some reason they are forced to amputate, highly touted Arkansas transfer Mitch Mustain would take over the starting job.
USC kicks off the season August 30th at Virginia before a bye week leading up to the showdown with the Buckeyes on September 13th.