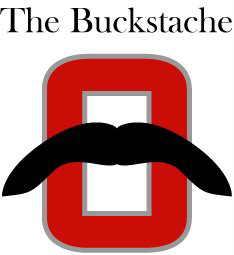 As others have noted, the irreverent run of the MZone has come to an end. At times it seemed as if the MZone's only mission was to pile on Ohio State, and us, its fans (exhibit a, exhibit b and exhibit c).
Their team was getting pummeled in the series yet they served up bomb after bomb with glee. And you know what? We loved it. Yost was as funny as they come and this space will be less for his absence, but we can understand the grind and wanting to have, you know, a life.
Here's wishing him the best and hoping he finally gets to don that 'stache he's been wanting.
And we promise, this is the only time you'll ever be subjected to that image around these parts.
---
The Dispatch's Bob Hunter recently wrote about the way information flows in this digital age specifically relating to the Henton transfer and how the paper has a hard time keeping up with the various newfangled forms of content distribution:
If a blog reports such-and-such, is that newspaper-worthy? Are we sure that the blogger didn't make it up? Is it being reported or talked about anywhere else?
The truth is that they're going to have an extremely difficult time competing in this realm going forward. Tressel has done a scary job of locking down the flow of information out of the program and when it comes to rumors, there's that whole sourcing thing that blogs and message boards don't have to worry about.
Would it not be wise to devote more of the paper's efforts to write historical or analytical articles? Maybe take a look at the past or break down some statistics? Perhaps an interview with a Buckeye that's removed from the program? I have no idea what the paper's summer budget for OSU football looks like, but if they write it, we will come.
---
Purdue blog Off the Tracks had me over for an interview and being asked to name a weakness on this team was no easy task. Is weakness contextual?
---
Looks like Poe has been called-up. Congrats on the move -- his wit and insight will only strengthen Buckeye Commentary.