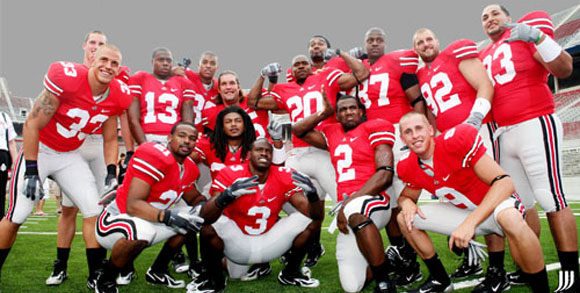 The start of spring practice is finally upon us and thanks to a Tressel press opp yesterday, some bits tickled out of the Kremlin.
One of the more interesting nuggets was the news that Antonio Henton was not the clear-cut #2 at quarterback heading into the session. The Vest went out of his way to point out how good Bauserman has looked:
"The thing that stands out with Joe is how quickly he lets the ball go," Tressel said. "When he first got here and he hadn't played football in three years and he was used to throwing that baseball, he wasn't quite as impressive as we had remembered him in youth camp when we recruited him."
Yes, part of that is fostering competition and is what any coach from pee-wee up says, but the other side of that coin is softening the landing for when LiC shows up this summer, sporting that #2 jersey.
Tressel indicated that Rehring, Person and and Brewster will sit out spring practice due to recent surgeries. This presents a perfect opportunity for the younger lineman to prove they can play on a consistent basis. Tressel all but issued a challenge to Mike Adams when discussing the opening vacated by Barton:
"I'm sure if I'm Mike Adams I'm thinking, 'I'm taking that spot over.'"
Speaking of surgeries, Beanie finally got his wrist right and he'll be held out of some contact drills. Personally, I don't think that's enough. The guy should have a team of round-the-clock masseuses (Gholston-style) and be put on blocks of ice at night. He's that important to the show.
Tressel also mentioned that the staff had spent quite a bit of time studying the offenses from the past three seasons and have come to the conclusion that 2005's edition was the best. Ken Gordon expands on this further:
That also happened to be the season in which they used the most spread. By 2006, Troy Smith was a pocket passer, but in 2005, he was a dynamic open-field runner and passer both. I liked the late-2005 model better, personally.
Gordon mentioned that Small, Saine and to some degree Boom Herron could help the team stretch the field vertically and horizontally and that's true, but that dude from Western PA knows a little something about that type of offense as well. He will play early and often (more on that in a later post).
Bucknuts has a look at what the spring 2-deep may look like and it's pretty sick. I'm trying to contain myself, but I'm having a hard time thinking of a more loaded Buckeye lineup in my lifetime.
Finally, some choice quotes from the Malcom Jenkins chat held yesterday:
Nate (Chillicothe): After experiencing preparations for Florida and LSU, what do you think needs to be addressed in preparing for another tough matchup with USC so we can contend for another national title this year?

Malcolm Jenkins: One word - Focus. Everyone needs to focus and be disciplined.

...

Matthew Smith (Perrysburg, OH): Malcom: How well of an asset you think TP is gonna be to the Ohio State Buckeye Offense, and do you think he has a chance to play early on, or will he have to put in his time like everyone else??

Malcolm Jenkins: I'm not sure how much he will help because I've never seen him play but if he works hard enough and has the right mindset he could play earlier.
Captain in-waiting?