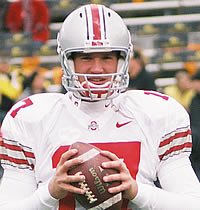 Ohio State and Penn State blogs were buzzing Saturday night over news that Terrelle Pryor will be making his college decision known within the next week.
Speaking with the press after leading his Jeannette team to a 76-70 overtime victory in the PIAA Class 2A championship game, Pryor was quoted as saying "Next week, I'm going to say the school I'm going to, sign it and get it over with." He further went on to say that he had narrowed his list of four down to two, but wouldn't say which two.
I don't know about you, but I'm having a hard time figuring out who the second school is. My first inclination was towards Michigan, what with the system fit and the immediate playing time. That and because it was the only other school besides Ohio State that welcomed Pryor on an official visit. But for whatever reason, I don't see him going to Michigan.
We know Penn State is out of it because he never scheduled an official visit there. That and statements like the following:
''[State College] is like a country to me -- I don't really dig it.''
Oregon is a longshot. No visits, too far from home, all that.
His response to a question about whether he'll miss basketball is certainly interesting, though:
''You never know. I just might come out and play basketball.''
Am I parsing that sentence too tightly or is the "just" modifier a clue that he may shock us all and take Memphis up on that basketball offer? He did turn in his typical 23 point, 8 rebound, 5 block, four assit and four steal night against a top team and his basketball stock is clearly on the rise. Ah, the paranoia.
Who do you think is Pryor's other school?