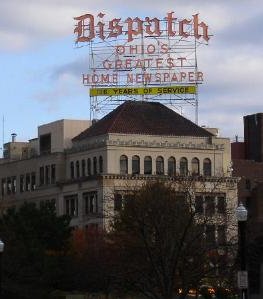 Just like Ken Gordon last week, Buckeye Basketball beat writer Bob Baptist was kind enough to field a series of slightly professional and unprofessional questions from a blogger who prepares interview questions about as well as he juggles fire. Thankfully, Bob trudged through it and the results are below. Take a look and discover just how amazingly long Bob has kept the Dispatch afloat as well as his thoughts on this year's squad and who should take over at Indiana, amongst other nuggets. Many thanks to Bob for being so gracious not only in giving up his time to share some thoughts with us but also for the great work he does for the Dispatch.
When did you decide you wanted to become a sports writer and what are the pros and cons of the profession?
High school. I played three sports as a sophomore, two as a junior and one as a senior, so as I had more time on my hands, I started writing about the teams I used to play on. I also wasn't good enough in math to be an architect, but I aced drafting.
Pros and cons of the profession are more than I have time and you have room for, even on the 'Net. I like traveling, hate working in an office, like writing informative stories. I don't like being away from my family as much as I've had to be, don't like the direction college athletics have gone with respect to limiting the access we have to the teams we cover, and lament the fact that most people don't have -- or take -- the time to read newspapers anymore. But in a lot of respects we've been our own worst enemy by being behind the curve of technology. I also hate games starting later and my deadlines getting earlier.
How long have you been with the Columbus Dispatch?
31 years. I'm ancient.
Do all the Dispatch sports writers band together and fight the writers from other media outlets like in Anchorman?
No. But we hold our ground when some TV cameraman thinks he can nudge us out of the way for a better angle. ESPN thinks it owns the world. Problem is, it's close.
What's the typical day like and which sites/newspapers do you read most often (besides 11W, of course)?
There is no typical day. That's the great thing and the worst thing about the job. It's 24/7 when you're on a beat like mine. I could spend 12 hours in my work room at home or drive to Indiana and cover a game.
I'm on the Internet all day. I usually go to the sites I need to help me with what I'm writing. I'll check a handful of sites that cover Ohio State basketball and recruiting to make sure I'm up to date.
Which of your peers does the most damage to the media buffet?
I don't want to lose any friends here. You're not paying me. Or even giving me a buffet.
On average, how many times per game do you catch yourself daydreaming about Erin Andrews?
That ship sailed 30 years ago.
Moving on to the team you cover, who was the biggest disappointment this season and why?
As this point, the season's not over (Sunday 3/2). I don't know if I can limit it to just one. I thought Jamar Butler was carrying this team through January and admired him for that, but I've been disappointed with his attitude the past month. I thought David Lighty would give them more offensively than he has, but maybe I was looking at him as an equal to Oden, Conley and Cook because he came in the same recruiting class. He's a raw athlete but an unpolished player. We'll see if he makes strides next season. And I thought Othello Hunter would have more breakout games like he did against Tennessee. He's athletic enough but shows it far too infrequently.
What are the chances Koufos return for his sophomore season?
I think its helped Koufos' perspective to see that, physically, he wasn't ready for the Big Ten much less the NBA. He also knows that if he comes back, he'll get zero minutes at the five position because Mullens and Lauderdale will hold that down, so he'll get more opportunities to play outside in at the four, and he'll be a better four because he learned this season how to scrap on the block. That said, who knows what he's thinking? I don't sense he has anyone in his circle pushing him to leave. So I would say his chances of returning are better at this point than were Oden's and Cook's.
How culpable is the coaching staff for the lack of development in players like Hunter, Lighty and Turdwiggler?
I can't say. Media doesn't get to watch practice. As I've told others who have asked me about the staff, this is the same group that helped David West and Lionel Chalmers become NBA draft picks at Xavier. Hunter and Lighty have only had two years to develop, and unfortunately for Hunter his time is up. There were questions about Terwilliger out of high school about how effective a Big Ten player he would be. Don't forget, Terwilliger and Butler were Jim O'Brien's last two recruits, not Matta's first two.
Specifically, what's your take on David Lighty? He looked okay as a freshman playing with a collection of NBA talent. Did he really regress this year or could it be that he's just not much more than a rotation player who was forced into a larger role as a sophomore?
I addressed this above, but in addition to that, Lighty didn't kill anybody with his offense last season. He had a nice second half against Tennessee and first half against Memphis. His forte as a freshman was on defense. His defensive skills are not as obvious to the naked eye in the zone this year.
In your view, what has been the most symbolic moment or game that tells it all about this year's squad (Again, interview was 3/2)?
Jamar Butler going off on his teammates after the loss at Iowa. Ohio State and Butler have not been the same since. The Buckeyes were 15-6 going into that game, 2-6 since.
In your estimation, which incoming freshman will have the greatest impact next season and which has the most long term potential?
I don't predict on freshmen until I get a chance to see them play with my own eyes, and of the four coming in, I've seen only Mullens and then only for one game two years ago. I do know that Anthony "Don't Call Me Noopy Anymore" Crater is going to have the ball in his hands on every play, so he will have an impact for better or worse.
If you were in charge, what would you do to improve the atmosphere in The Schott since it doesn't appear throwing 700 t-shirts into the crowd after three pointers and during timeouts is doing the trick?
If they could find a good lawyer -- maybe Jim O'Brien's? -- to find a way to void those 40-year seat licenses, that would be a good start.
Who should Indiana hire and why?
Bruce Pearl. Another media-friendly coach whose system will further open up the stodgy Big Ten. All we have to do then is keep weeding out the last of the whistle-happy old guard of officials and supervisors and let 'em play.
Rank the top 4 coaches in the Big Ten.
Bo Ryan, Tom Izzo, Thad Matta, Tubby Smith
What's your gut say about whether or not Matta be the head coach at Ohio State in five years?
Too far down the road to predict. But consider this: Only one current Big Ten coach, Tom Izzo, has been in the league nine years.
To close it out, I've got another very serious question - Which Buckeye is the most handsome: Greg Oden, Granville Waiters, Clarence McGee, Jamar Butler or Other?
That's your fifth foul, and you're out.