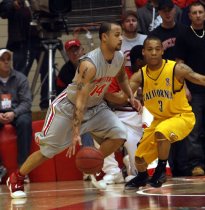 OPPONENT: Dayton got off to a hot start this season, going 14-1 including wins over Louisville and Pittsburgh, then they lost 8 of their next 11 and finished seventh in the A-10 with a 8-8 conference record. They got their dream match-up of Ohio State by taking down Illinois St. on the road 55-48 Monday night. As I write this, there are over 15,000 tickets sold and I'm sure Flyers fans got their share of tickets, ensuring a second straight intense atmosphere--finally!
The Flyers are scoring 68.3 points a game, while giving up almost 64. Overall they shot 47 percent from the floor, 64 percent at the line and 37.6 percent from deep. The three guard attack Dayton employs lead to 13 turnovers a game while only creating 13, but surprisingly they averaged only 11.7 assists and 5 steals.
KEY PLAYERS: Dayton is lead by first team all conference selection Brian Roberts, 6'2" senior who is averaging 18.4 points, 3 boards and 3.5 assists a game. Roberts was 4-12 Monday including 4 of 6 from deep and managed to score 16 points, but he also managed to dish out zero assists. Marcus Johnson is a 6'3" sophomore starter who scores 10 points a game, while grabbing just over 5 caroms.
Chris Wright came back from injury Monday night, scoring 9 points in 10 minutes. Before sitting out 18 games, the 6'8" freshman was averaging 10.3 points and 5.8 rebounds per contest in the Flyers first fourteen games. Aside from this trio, Dayton is filled with role players. Andres Sandoval, a 6'4" senior starter averages 6.5 points and 3 boards, while the 6'6" junior Charles Little will come off the bench to score almost 8 points and grab 4.5 rebounds per game.
Jimmy Binnie, a 6'7" senior also starts with 6 points and 4 rebounds per game, while the starting center 6'10" sophomore Kurt Huelsman chips in with 6 points and 4 rebounds. London Warren is a 6 foot reserve who scores 4.4 points and snags 3 boards.
NOTES: Dayton is lead by Brian Gregory, 98-59 in his five seasons... These two teams have not meet since 1988... Brian Roberts has scored 10 or more points in a half 28 times this season... Dayton is 14-1 with Chris Wright in the lineup.
---
BUCKEYE BREAKDOWN: This Buckeye team has played loose the last two games and it is refreshing to know they have taken a winning mentality into this tourney. OSU has beaten their opponents by an average of 17.5 in the first two games, shooting 56 percent against UNC-Asheville and 50 percent Monday.
Jamar Butler has lead the way with 41 points and 13 assists. He is finally starting to take some shots inside the arc, hitting 16 of 29 shots overall, which has helped his three point shooting (9-19). Othello Hunter has also put in a senior like performance, going for 27 points and 19 rebounds. I think Monday may have been his best game as a Buckeye and I don't see any reason why tonight will be any different.
Is Kosta Koufos finally growing up? Getting out of Big Ten play was the best thing for Koufos. He has used his arsenal of offensive moves to score 32 points, on 15-22 shooting and grab 10 boards. If Kosta comes back and he can bottle this type of play up, this team could be special. David Lighty has also stepped up is game, making 9 of 18 shots and scoring 21 points.
I'm giving Turner the benefit of some type of injury, his defense is still stellar. Diebler however is a lost cause this season. The poor kid has made only 6 three pointers in his last 8 games and is now shooting 28 percent from deep.
Ohio State's defense has played lights out in the first two games. Dayton does have the 3guard system, so it will be interesting to see if the press will be effective. OSU no doubt has the better athletes, but will they continue this level of play or will being back in the Schott provide another slow start? I think OSU pulls away and books their second trip to NYC this season.
NOTES: OSU is 15-7 in eight NIT appearances... Ohio State is 3-2 all time against Dayton... Ohio State would play the winner of Virginia Tech and Ole Miss on April 1st.