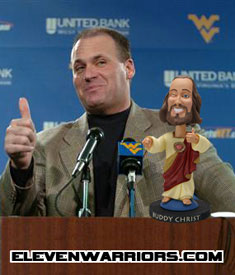 Just when you thought it couldn't get any worse for the boys up North, it does.
Pickerington product Justin Boren has quit the Michigan football team during spring practice. Boren, an honorable mention all conference selection as a sophomore last season, started 13 games for the Wolverines at center and guard and was one of only two returning o-lineman that had seen any type of significant minutes for the team.
Boren had spoken out about the pace of practices and all of the barking from the new coaching staff that expected its hogs to run back to the line of scrimmage in the Wizard Slinging Snake Oil's hurry-up offense.
The transition year(s) are always rough and some of this is to be expected. Despite not landing LeBron in Cleats, Rodriguez did put together a pretty decent class.
He'll get players and he will win with that system eventually, but you have to wonder about his ability to get his guys to the next level. To be fair, a lot of NFL trends have percolated up from the college ranks (running back by committee, anyone?) and perhaps the NFL will be spread central someday.
But as we saw with the Pryor decision, and Boren more than likely reinforced this, the perception is out there that the offense Rodriguez runs only gets you one Escalade instead of three on draft day.
Boren would look great in Buckeye gear, but the whole sitting out one year and.. oh yeah.. the little rivalry thing (his pops played for Bo) would probably nix that idea. Then again, at least he'd get a chance to earn a pair of gold pants.