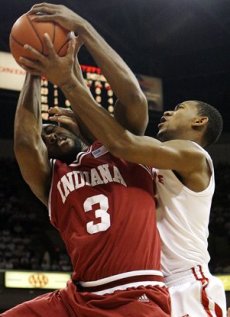 We've hoped all season that Ohio State's strength of schedule (29) might give them a boost come Selection Sunday but SOS means nothing if you lose nearly all those tough games.
The latest example, a 59-53 home defeat at the hands of #13 Indiana, again showed the Buckeyes have just enough to hang around for awhile before some combo of inconsistent scoring, untimely turnovers and/or the lack of a true inside presence dooms the cause.
That missing ingredient inside loomed large today as Indiana's DJ White showed why he's the front-runner for Big Ten POY with a monster 21 point, 13 rebound effort exposing OSU's soft underbelly on countless possessions. Besides being unable to stop White, the Buckeyes sealed their fate allowing Indiana to score 21 points off 10 turnovers while managing just 3 points off 7 Hoosier miscues.
The Buckeyes showed some heart in the second half trimming an early 31-21 second half deficit to 31-29 shortly before the first TV timeout but a 13-5 IU run pushed the lead back to 44-34 with 11:55 left. Shortly thereafter, the game's defining moments would play out in painful fashion.
A three from the top of the key and another jumper from Kosta Koufos sandwiched between a Jon Diebler baseline jumper cut the Indiana lead to 46-42 with 8:14 left but the Buckeyes wasted 4 stops in 5 trips at the defensive end by launching three deep clankers in addition to Evan Turner making just 1 of 2 in a crucial trip to the line resulting in a 49-43 deficit with 4:38 left.
The Buckeyes stayed within 4 points over the final 4 minutes but it certainly never appeared they would recapture the lead as Indiana hit six straight free throws to secure what the media is calling their first "signature" win of the season.
---
Freshmen Kosta Koufos (18 pts, 9 reb) and Jon Diebler (14 points, 4 3FG) led Ohio State while heart and soul PG Jamar Butler was held to 4 points and 6 assists in 40 minutes. Butler never got it going as Indiana's zone extended high on the point and wings daring OSU to look inside. More often than not, post entries only led to kickouts and missed threes. OSU shot just 26% from deep (7/25) with those not named Koufos or Diebler shooting a combined 1/14, or 7 freaking percent.
Also failing to help Koufos and Diebler were freshman Evan Turner and David Lighty. According to Bob Baptist, Turner's recent regression has likely been aided by a
bum wrist
but Lighty has no such excuse. The sophomore from Cleveland was pathetic going scoreless with 3 turnovers in 26 minutes which should have been expected considering he wa productive in the two previous games (21 pts, 2 TO) keeping his roller coaster season firmly intact.
The frustrating loss dropped OSU to 16-8 overall and 7-4 in the conference with seven games remaining. The good news for OSU is they still control their dance card destiny but the schedule is not favorable with tilts against against Wisky, @ Indiana, @ Minnesota, Purdue and Michigan State still on the docket.
That means it's put up or shut up time for a team that shows glimpses but no consistency as the youthful seven man rotation finds it way. For now, all they can do is prepare for two upcoming must wins starting Wednesday night in Evanston before next Sunday's rematch in Ann Arbor with Tressel and RichRod on hand.