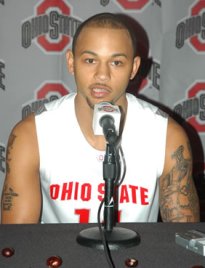 OPPONENT: The perennial punching bag otherwise known as Penn State basketball welcomes Ohio State to the Bryce Jordan Center while in the midst of a five game losing skid following two wins to start the conference season. The season officially went in the crapper with the loss of senior leader Geary Claxton to a season ending knee injury a few weeks ago in Madison after the Nittany Lions had won seven straight games albeit against shoddy competition. Ed DeChellis' squad is currently 149th in the RPI and boasts a laughable SOS of 102.
In conference, the Nittany Lions sport the 9th best offense (51 pgg) and have lost their last 4 games by an average of 19 points while shooting a league low 58% from the stripe. I'll throw them a bone and mention they lead the conference in rebounding defense at 29.0 per contest. Yay.
KEY PLAYERS: The loss of Claxton devastated the lean Lions leaving much of the heavy lifting to former Brookhaven star Jamelle Cornley. The 6'5" forward scored 15 points in last Saturday's defeat at Iowa but has his own injury woes following the aggravation of a bone bruise on his left knee. Cornley is 5th in the conference in scoring at 15.3 and 5th in rebounding at 7.1 per contest.
Besides Cornley, the Lions receive contributions from 5'11" freshman Talor Battle (8.8 ppg, 2.9 ast), 6'1" junior guard Stanley Pringle (5.7 ppg, 2.1 reb) and 6'3" junior guard Danny Morrissey (7.2 ppg), among others. Pringle led PSU with 17 in the Iowa loss while Morrissey has been held scoreless in his last two outings.
The smorgasboard of senior guard Mike Walker (5.6 ppg), 6'6" freshman forward David Jackson (5.3 ppg, 3.3 rpg) and 6'9" sophomore forward Andrew Jones (2.9 ppg, 3.9 rpg) will also see action.
NOTES: PSU almost upset the Buckeyes before falling 64-62 last year so you can expect a rowdy crowd as Penn State gets some national TV face time on ESPN's Super Tuesday...I'm not sure what's so "super" about this matchup but since Erin Andrews will be working the sidelines, I'll just assume that's the reason.
---
BUCKEYE BREAKDOWN: Following last Saturday's beatdown of Minnesota, the Buckeyes hope to avoid an emotional letdown on the road against an inferior foe. Thad Matta's young squad is riding a modest two game winning streak that should swell to 5 in a row with PSU, at Iowa and Michigan on the docket before the February 10th showdown with Indiana in the Schott.
That said, inconsistency has plagued this team throughout the season meaning this will be a good measuring stick to see if this team has taken strides with regard to maturity. Good teams beat the teams their supposed to beat and the Nittany Lions are certainly in that category.
For all the individual inconsistency one constant continues to be the defense. The Buckeyes are currently 9th in the country in FG% Defense holding opponents to 37% and they rate 7th in the country committing just 14.4 personal fouls per contest.
KEY PLAYERS: Obviously, Jamar Butler is the straw that stirs the drink and the quiet leader was huge against the Gophers recording 27 points and 9 assists after reaching double figures in just 4 of the previous 6 contests. On the season, Butler leads OSU in scoring (15.0), assists (6.3) and steals (1.5) while boasting a sick 2.6/1 asst/to ratio. The handsome devil is also shooting 92.7% from the stripe and 42% from distance.
While Butler's season is not surprising, the emergence of freshman Evan Turner has turned some heads. The rangy swingman from Chicago has shown steady improvement in recent weeks and he's blown up in his last three outings averaging 17 points, 7 boards and 3 dimes per night. The decrease in turnovers has been just as impressive and he's shooting a ridiculous 61% in conference play.
Strong play from Turner and Butler has helped to offset the roller coaster ride known as David Lighty. The sophomore had recorded back to back games in double figures before the wheels fell off against Minnesota. Lighty struggled from the floor (1/5) and committed a season high 6 turnovers in a performance comparable to the aroma of hot garbage.
Freshman Kosta Koufos has been a whipping boy all season due to a style of play that's softer than your alcoholic Grandpappy's stool but he's still the Buckeyes' 2nd leading scorer at 13.7 ppg and leads the team in rebounding (6.8) and blocks (1.9) while Othello Hunter checks in at 9.4 ppg and 6.4 rpg.
Off the pine, Arctic-Jon Diebler is averaging 6.3 ppg and his shooting percentages have plummeted to hypothermic levels (28% FG, 26% 3FG drawing the ire of Buckeye Nation. Conversely, Matt Terwilliger is the talk of the nation after the Buckeyes moved to 29-1 when he pours in at least 4 points.
NOTES: Thad is 8-0 all time against PSU...Butler is averaging just 8.1 ppg in 8 games against the Nittany Lions...The Buckeyes have held every conference opponent to 39% shooting or less thus far.