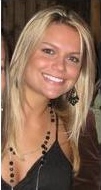 First, DDN was all over the Gholston "roommate" story and now they've let us know Todd Boeckman is dating Jim Heacock's daughter, Shannon. As Jason quipped, it's like the DDN is the Penthouse of OSU coverage.
The love birds have been dating for over 2 years now and after seeing Shannon's picture I'm wondering if maybe they were fighting the last few weeks of the season? That would help explain why Todd struggled a bit down the stretch. Lord knows the rest of us would be struggling at work if we jeopardized the chance of sleeping with that on a regular basis.
Nice work, TB. Now make your honey proud on Monday night or else she might cut you off until you beat USC in September.