Opponent: UW-Green Bay will travel to the Schott tonight for a first round game in the NIT Season Tip-Off. They return 4 starters from last year's 18-15 team and the Phoenix is picked to finish 3rd in the Horizon League. UWGB has won all three games they played this year, two exhibition and one regular season, taking down Oakland 76-75 last Friday.
The Phoenix have connected on only 36 percent of their shots from behind the arc and may not look to shoot from that range as much as Ohio State's first two opponents. However, UWGB has an overall FG percentage of 49 percent, which tells me they move the ball around and get a good look at the basket each possession.
This team does have some overall height, but they were out rebounded in their season opener 32-41, so the Buckeyes may have an advantage on the boards. UWGB will give the Buckeyes a tremendous challenge, an experienced bunch with more chemistry than the Buckeyes, they look to copy another Horizon team, Butler, who won this tournament last year.
Key Players: The Phoenix are lead by preseason all conference selection Mike Schachtner (#43 6'9" Jr.), who lead the team in scoring last year at 14.9 a game. He was selected 2nd team all Horizon a year ago and lead UWGB with 23 points and 7 rebounds in their first contest. Schachtner is going to pose a match up problem tonight, he has size, experience and can shoot the ball from any where.
UWGB will get some scoring help from their two starting guards. Troy Cotton (#10 6'1" So.), was second in the conference last year shooting 46 percent from downtown and started the final 22 games. Rahmon Fletcher (#20 5'10" Fr.), made an early splash, starting his first collegiate game and accounting for 14 points, 3 assists and 2 steals.
Terry Evans (#21 6'5" Jr.), led the team in rebounding last year, at 6.3 per game and also paced the team in blocks (1.4) and steals (1.7). Evans athleticism has earned him all conference defensive status the last two seasons. Randy Berry (#23 6'9" So.), looks to be the bruising white boy in the paint, who could pick up junk points and rebounds, if the Buckeyes don't box out. UWGB will have Ryan Tillema (#24 6'8" Jr.), and Bryquis Perine (#0 6'3" Fr.), coming off the bench. Tillema is a veteran who likes the 3ball, averaging almost 2 per game over his career and Perine could provide an additional spark.
Notes: Wisconsin Green Bay is playing Ohio State for the first time and also participating in their first NIT Season Tip-Off... The Phoenix are coached by Tod Kowalczyk, who is entering his 6th season... UWGB has an enrollment of 5,800 students, 67 percent of which are females.
---
Buckeye Breakdown: It's been a tough week for Buckeye Nation, but luckily it is Michigan week and Thad's squad gets a chance at redemption in their season opener tonight. Thad had plenty of teaching to do after the debacle against Findlay and this young team needs to come out strong to avoid another embarrassment. The two exhibition games did give us some insights into how raw this team really is, but Thad has a stable of athletes that fit his style of play and it should be an exciting brand of basketball this season.
Key Players:
Jamar Butler is back at the point guard position, where he thrived as a sophomore. He lost 15 pounds and is looking to slash a little more this year. Butler is the Buckeye's leading returning scorer and was selected as preseason All-Big Ten. He is a quiet, solid leader who should be the career leader in three pointers made (16 more) within the next couple of months. The Buckeyes desperately need Butler to be consistent this year, play under control and lead his young teammates.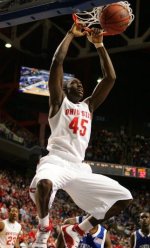 P.J. Hill looks to be a serviceable back up for Butler. Hill's quickness and speed is due to his soccer back ground and he doesn't look to be a scoring threat, but will be crucial defensively in Big Ten play. Hill must limit his turnovers this year, but he is a winner and should improve quickly as his comfort level increases.
The other two starters alongside Butler, should be David Lighty and Jon Diebler. Lighty gained valuable experience as the captain of the USA Basketball U19 team this summer and he should have more confidence in his shooting stroke. He has taken 9 shots in each exhibition game and the Buckeyes need him to average in double digits. Lighty's 1-7 from downtown thus far is a concern, so he will need to drive to the hoop and hit the mid range jumper to get him going.
The folklore behind Diebler is well known and he is within range when he walks in the gym. Diebler is going to be a defensive liability for the first couple of months, but he is going to get his share of shots and should also average in double digits. Ohio State will need Diebler to use his length for rebounding and make at least 40 percent of his treys.
Evan Turner and Eric Wallace have similar attributes and will look to give Matta even more options coming off the bench. Turner averaged 25 points a game in his senior season and has showed glimpses of his slashing style and mid range jumper. He didn't do much stat wise in exhibition play, but his length and passing abilities will help Ohio State in transiston.
Wallace has potential to quickly become a crowd favorite. He may not have the complete offensive game yet, but his ability to jump will gain him instant rock star status. Wallace lead the team in steals and blocks during preseason play and must give Ohio State a high flying scoring threat.
Othello Hunter is going to be the X-Factor for Ohio State this year. I still think he can become all conference, but that display he put on last week can not happen again. Hunter is Ohio State's leading returner in rebounding, 4.5/game and had 15 points and 12 boards in the first game. However, he laid a turd in game two, with 0 points and 1 rebound. If Othello can bring intensity every game, he has potential to average a double-double, as Kosta Koufos will help take pressure off inside.
Koufos paced Ohio State in scoring and rebounding during the preseason, at 17.5 and 9.5 respectively. Koufos looks to have fluid movement in the post and has stayed away from hanging outside the arc, but his free throws must improve from the current 50 percent. Enjoy this year with Koufos, as this maybe his last in a Buckeye uniform. He should lead the team in scoring and be a lottery pick next year. While Hunter and Koufos should be the starters this year, Thad is much deeper on the inside than in past years.
The Wiggler is back, to help lead fellow Whiteboy project Kyle Madsen and Dallas Lauderdale off the bench. I think Wiggler is due for a breakout season and will help extend the defense with his shooting range. Lauderdale will be get his points strictly from the inside and looks to have good enough speed to keep up with Matta's frantic pace. Madsen could be the odd man out as his skills are too similar to Wiggler's and he looks stiff in running up and down the floor.
Notes: Thad Matta is 7-0 in season openers... He is looking for his 8th straight 20 win season to start his career... Ohio State is 0-2 all time in the NIT Season Tip-Off, losing to Notre Dame in 1999 and DePaul in 1989... Ohio State is 49-9 all time against the Horizon League and will also face Butler and Cleveland State this season... Matta is 48-3 at the Schott and is looking to guide the Buckeyes to their 26th consecutive win there.