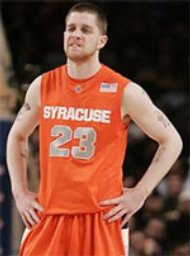 Opponent: Syracuse is a fantastic early non conference foe for Ohio State. The Orangemen are 3-0 in this young season, pulling away from Siena and getting a nail biter from Saint Joeseph's in the first two rounds of the NIT Season Tip-Off, then clobbering Fordham last Friday. Jim Boeheim has been coach at Syracuse forever and you know his team will come in ready for action.
Boeheim loves to play him some zone and his teams have lulled plenty of teams to sleep over the years, forcing them to stand around and shoot from behind the arc. Syracuse has held their three opponents to 44 percent shooting, but have allowed 10 three pointers per game. The 'Cuse will roll in tonight with a young line up, starting 2 freshman, 2 sophomores and a junior. While the Orange's youth shows up in their negative turnover and steal margins, it hasn't affected their shooting, connecting on 54 percent from the floor, including 47 percent from downtown and averaging 83 points a game.
Key Players: Syracuse is not deep, all 5 starters average double digits and 30+ minutes per game. Beyond the starters, 3 other players have seen limited time off the bench. Donte Green (6'9" Fr.) leads the 'Cuse in scoring at 19/game, while also grabbing 8 boards. He is coming off a career high 25 pt., 9 rb. game against Fordham and he possesses the ability to hit the three, making 8 of 19 attempts.
His fellow freshman starter, Johnny Flynn (6'0" 13pt./8ast.) introduced himself to the Syracuse faithful with a 28 pt., 9 assists game in their first victory and hit a game winning 3 pointer against Saint Joseph's to help the 'Cuse advance to the semi-finals. Flynn was one of the most sought after point guards last year and started with David Lighty in the U19 USA team this past summer.
They are joined in the starting line up by veteran scorer Eric Devendorf (6'4" Jr.), who is 7 points away from 1000 career points. Dorf averages 16 a game and plays a team high 37 minutes a game. Rounding out the starting five is Arizne Onuaku (6'9" So.) and Paul Harris (6'5" So.). Onuaku is their wide body on the inside and averages 14 points and 5 rebounds. Harris could be the key for the Orange, averaging 13 points and 12 boards. He is not a threat from downtown and likes to get to the stripe, but he gets most of his points off junk. Rick Jackson (6'9" Fr.) is the only significant sub, but is not worth noting at 10 minutes a game.
Notes: Syracuse is looking for their third NIT Season Tip-Off title. They are 80-74 all-time at Madison Square Garden. Jim Boeheim is 12th all-time in victories and has a career record of 753-264.
Buckeye Breakdown: Ohio State has won their first two games by an average of 18.5 points. Thad Matta shortened his bench and it will be interesting to see who earned more playing time over the last eight days of practice. This young team's lack of man to man execution has forced Thad to play more zone, but I would expect increased pressure tonight.
Ohio State's depth could wear down Syracuse, but the Buckeyes must show improvement on the defensive end. Ohio State comes in averaging 79.5 points a game and is shooting 51 percent from the floor. They outrebounded UW-Green Bay and Columbia by 9.5 a game and their height advantage tonight should lead to another positive rebounding margin.
The Orange's zone defense will be a concern for OSU, as it is easy to stand around and settle for long jumpers. Ohio State will have to penetrate and get the bigs for Syracuse in foul trouble, while trying to hit the mid-range jumper. The Buckeyes are 17-44 from long range this year, but should have open looks against the zone.
Key Players: Ohio State has been lead by a three headed attack this season, Kosta Koufos (18.5), Jamar Butler (17.5) and David Lighty (17.0). Koufos has shown some smooth offensive game and is shooting 62% from the field. He has resisted the temptation of shooting the 3ball, but has hit 2 of 3. Koufos is also second on the squad with 7.5 boards a game.
Butler has made 9 of 18 threes and seems comfortable again playing point guard, contributing 6.5 assists per game. He set career highs in rebounds with 7 against Columbia and 10 assists against UWGB. David Lighty has been a huge lift for Ohio State, shooting 63 percent and contributing 6 boards with 4 assists.
Othello Hunter has been able to score 12 points a game and leads Ohio State with 8 boards per contest. He must have a big trip to NYC, Ohio State needs his scoring and his 40+ inch vertical leap to control inside. John Diebler is hoping to find his shot in the Big Apple, as he is only 1-10 thus far and looks a step slow at times. The Wiggler, Evan Turner and P.J. Hill should see the majority of action off the bench, but I hope to see Eric Wallace and Dallas Lauderdale a bit more, proving they are showing improvement.
Notes: Jamar Butler is now tied for 3rd in career three pointers, at 147. He is just 6 behind Scoonie Penn and Brent Darby. Ohio State is 3-1 all-time against Syracuse and 68-46 against the Big East. 11W favorite Slick Steve Lavin will be part of the commentary team on ESPN2.