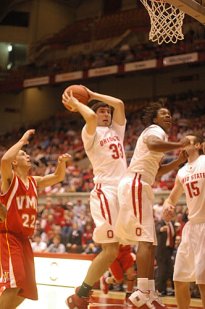 Opponent: North Carolina invades The Schott tonight as part of the ACC/Big Ten Challenge, although it hasn't been much of a challenge for the ACC, winning all eight years (51-28). Carolina is looking to defeat the Buckeyes for the second straight year, posting a 98-89 victory.
UNC is the number one according to writers and number two in the coaches poll, winning all 5 of their games to start this season. The Tar Heels are a veteran group, losing only 2 key players from last year's elite 8 team and Roy has his boys playing 8 of their first 10 games away from home.
UNC is averaging 92 points a game, shooting 52 percent from the field and 40 percent from the arc. North Carolina doesn't have many weaknesses, beating their first five opponents by 17 points a game, but they only have 4 players 6'7" or taller and their 6.6 rebounding margin is evidence of that. They do create 21 TO's, but only have a 1.1 assists to TO margin for themselves.
Key Players:Tyler Hansbrough (#50 6'9" Jr.) once again leads the Tar Heels this season, averaging 23 points and 9 rebounds in 30 minutes of action. Tyler is well known to college basketball fans and it seems as if he has been in Chapel Hill for six years. He will bring intensity, skill and sharp elbows to the paint tonight and I will be interested to see if he can work behind Ohio State's zone defense.
Wayne Ellington (#22 6'4" So.), great-great grandson of Duke, is a dynamic second scoring option for Carolina. He's scoring 17 a game in 30 minutes, but hasn't posted good numbers in any other category (3 boards, 1 assists and 1 TO). Wayne-O will look to shoot from the outside (12-25), so Ohio State's length on the wing will could be a factor.
Ty Lawson and Danny Green are the two other Tar Heel's averaging double figures. Lawson (#5 5'11" So.) injured an ankle against BYU last game and may see limited action, but when healthy, he could be the fastest player end to end in the country. If he doesn't play, UNC will miss his 10.6 points and almost 5 assists per game. Green (#14 6'5" Jr.) is Carolina's 6th man, averaging 13 points in only 19 minutes.
The other two starters are Deon Thompson (#21 6'8" So.) and Marcus Ginyard (#1 6'5" Jr.), with Alex Stepheson (#32 6'9" So.) and Bobby Frasor (#4 6'3" Jr.) coming in as top reserves. This group of four averages over 22 points, 6 rebounds and 6 assists a game and allows Roy Williams to rotate different combinations to keep the waves of pressure on their opponent.
Notes: Roy Williams is 529-131 in 20 seasons as a head coach, going 111-30 in his first five seasons in Chapel Hill... This is the first season he does not have a new scholarship player in his program... Hansbrough has attempted at least 10 free throws in 4 of the Heels 5 games, going 47-58.
Buckeye Breakdown: VMI didn't give quite the challenge I thought they would against Ohio State. Thad's boys clamped down on the defensive end, stretching their zone to beyond the 3 point line. VMI took 49 three pointers, making only 11, as the Buckeyes contested almost every shot. The Keydets were held to 45 points below their season average, shooting an overall 30 percent from the floor.
Obviously UNC rolls in with a few more athletes, so the defensive intensity must be there from the beginning. Ohio State can not afford to give up fast break and second chance points and they must be better than their +2.6 rebounding margin. If Jon Diebler can ever find his shot, Ohio State may be able to rise above their 46 percent shooting. It is going to take a near perfect effort from the Bucks and I truly hope the crowd can make a difference tonight, it has been pitiful thus far.
Key Players: When are the Buckeyes going to give me a chance to write about more than two players in this section? Othello Hunter played only 4 minutes last game due to an illness, Jon Diebler is now 4-35 overall, 2-24 from 3land and David Lighty continues to be a turd offensively, dropping down to 10 a game. Where would this team be without Koufos? I love Jamar Butler and I expected this high level of play from him, but without Koufos, this team would look like a team from O'Cheater's days. Kosta will get a chance to impress Dickie V. tonight, however he must stay out of foul trouble early or it could quickly turn into Texas A&M part duex and Dickie V. will be putting on his ACC kneepads.
Evan Turner played a good game against VMI and could be getting ready to break out. The tempo of tonight's game will give him a chance to equal his 10 point, 7 rebound effort against VMI, but he must stay under control and cut down on the turnovers. I love the extra length he gives the defense and would not be surprised to see him get a start soon.
Notes: Jamar Butler is now the career leader in 3 pointers made... Ohio State has won 6 out of the last 7 against #1 opponents, including their last three at home... The Buckeyes are 1-4 in the Big Ten/ACC challenge (we sucked so bad we were not allowed to play in the first 2)... The ACC leads 5-1 in 2007.