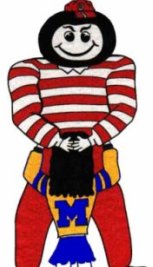 Shortening his bench following last week's shocking exhibition loss to Findlay, Thad Matta seems to have gotten his team's attention.
Improved intensity and concentration were on display as Ohio State rushed past Wisconsin-Green Bay 91-68 before an embarrasing crowd of about 7,000 in Value City Arena. The Buckeyes comitted just 3 turnovers in the first 30 minutes and received big contributions from the few veterans on the roster.
Sophomore David Lighty paced the Buckeyes with a career high 21 points and 8 rebounds and keyed a 16-3 run midway through the first half with a natural 3 point play on a nasty spin move before connecting on a triple try helping turn a 22-17 deficit into a 33-25 lead with 6:55 left.
Senior Jamar Butler also came out firing with 14 first half points (17 total) including 4/5 on threes (5 tot) as OSU outscored the Phoenix 29-12 to close the half. Understanding he's a point guard again, Butler also handed out 10 assists against zero turnovers displaying an impressive overall floor game. Even more important, Sr. Othello Hunter came back from the dead in spirited fashion with 17 points, 7 rebounds and 4 blocks.
Hunter received plenty of help on the baseline as Wisc-GB had no answer for freshman Kosta Koufos. The "Big Greecey" showed his inside-outside game on the way to 18 points (2/4 3FG) and 8 rebounds.
The Buckeyes led 46-34 at the break behind hot shooting (59% FG, 8/14 3FG) and disciplined offense (3 TO) with Matta using only Matt Terwilliger and Evan Turner off the bench. Wiggler responded with a trey and 4 rebounds finishing with 5 points and 6 boards while Turner played just a few minutes missing a line drive jumper and committing a foul.
Looking to thwart any threat of a comeback, Lighty fueled a 12-2 run to start the second half with 7 points as OSU took a 58-36 lead with 17 minutes left. With the game in hand, Matta finally went deeper into the bench bringing in Turner, PJ Hill and Eric Wallace.
Still teaching and not satisfied with the concentration, missed free throws and shot selection shown by Turner and Wallace leading to a 10-3 run by the Phoenix, Matta replaced everyone on the floor except Dallas Lauderdale. Shortly thereafter, Koufos went on his own 8-0 run bumping the OSU lead to 28 with 5 minutes to go. The move wasn't necessary to preserve the victory but I like that Matta is going to make these guys earn minutes.
For the game, OSU posted a solid turnover to assist ratio of 22-7 and shot 46% from downtown (11/24). The continued poor free throw shooting (10/18), Wallace and Turner showing no growth (in limited minutes) and Jon Diebler failing to make a FG attempt were the only real blemishes. Defensively, OSU won the battle on the boards 38-32 and held WGB to 27% from the floor employing an active matchup zone defense. The Phoenix hit a few triples early but the zone proved effective and could set up the debut of a three-quarter court zone trap defense in the very near future.
With tonight's game in the bag, OSU faces Columbia on Tuesday following their 47-41 win over Delaware State.