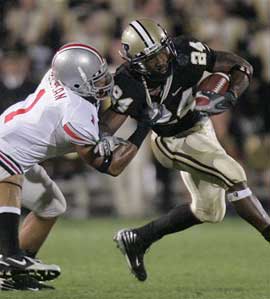 The Big Ten conference announced their awards late last night and as expected, Ohio State cleaned up.
James Laurinaitis earned his first Big Ten Defensive Player of the year honor after leading Ohio State's top ranked defense. While it has been argued that Marcus Freeman has been just as impressive this year, it is hard to ignore Little Animal's stats. He led the team with 103 tackles, while also having 8.5 TFL, 5 sacks, 2 INT's and a fumble recovery.
He is the third Buckeye to win the honor in the last 5 years, A.J. Hawk in 2005 and Will "Summertime" Smith in 2003 were the other two. Obviously Laurinaitis was first team All Conference by both the coaches and the media and this could be the first of many honors thrown his way before tOSU's bowl game.
While Laurinaitis won Defensive POY, the Gun Show was honored as the Big Ten's Defensive Lineman of the year. Gholston tied Ohio State's single season record with 13 sacks, 10 of those coming within conference play. Vern, baby Vern was dominate at times, tying a single game record with 4 sacks against Wisconsin, leading the domination of Michigan and also returning a fumble for a touchdown. His 14.5 TFL lead the team and Vern was responsible for 196 yards of lost offense for opposing teams.
Joining Lil' Animal and Gun Show on defense was Malcolm Jenkins, earning his second straight First Team All Conference. Jenkins was fifth in tackles (44) for the Silver Bullets and lead the team with 3 INT's. Malcolm showed his versatility this year, splitting time at corner and safety and was instrumental in helping Ohio State lead the nation in many defensive stats.
Marcus Freeman has a legit gripe with the media. While the coaches got it right, voting him 2nd team, the media believed he was only worthy of honorable mention, even though he lead the team in solo tackles (60), was second in total tackles (95) and chipped in with 9.5 TFL.
Freeman earned the only second team honor for the nation's top defense, however Kurt Coleman, Anderson Russell and Donald Washington gained honorable mention from the coaches and Coleman, Freeman and Russell were media selections.
Beanie's performance against Michigan jumped him up to earn First Team honors from both the coaches and media. Beanie finished the regular season with 1463 yards (5.8/carry) and 14 touchdowns. Wells averaged 140 yards/game within conference play, which lead all Big Ten running backs and his 11 touchdowns were second.
Kirk Barton also earned First Team honors from the coaches and media. Barton is one of two senior starters on the offense and was a solid leader on the O-Line all year. He helped Ohio State average 32 points a game, while gaining almost 400 yards of equally balanced offense (200/rushing and 197/passing) each game.
Barton's linemate, Alex Boone, earned 2nd team honors from coaches and media. I thought Boone was much improved this year, opening up gaping holes on his side of the line and protecting Boeckman's backside. If he stays and keeps away from drinking 2 cases of beer per day, Boone will have serious consideration for All American next year.
I think we can all agree Todd Boeckman had a surprising and refreshing year (minus the last 2 games), but unfortunately the coaches and media could not agree on this fact. The coaches felt Boeckman's 150.3 passer efficiency, 2171 passing yards and 23 touchdowns were only worthy of honorable mention, deciding to throw Chad Henne a bone and give him First Team. However the media got it right and voted him First Team. As mentioned, Boeckman seemed to take a step back the last two games, after some small Heisman talk started, but his leadership and play throughout the season helped Ohio State to their third straight Big Ten title. Honorable Mention? Behind Chad Henne? Come on coaches, you're smarter than that!
Along with Boeckman, the coaches voted Brian Robiskie and A.J. Trapasso honorable mention, while the media added Ryan Pretorius for the honor. Brian Hartline did not receive any all conference selections, but he was nominated for the Big Ten Sportsmanship Award.
Take a look at the entire list and tell me what other mistakes you see, it was hard for me to get passed the media's robbery of Marcus Freeman.