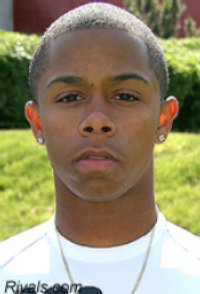 While the current Buckeyes are back where they belong, the Buckeye Seedlings have tried to keep up at the high school level. It was a big week for Devier Posey, a future Buckeye wide receiver from Cincinnati LaSalle High School. Posey has 43 catches for 718 yards and 6 touchdowns so far this season and his sprinter speed helped gain him another star from Rivals.com. He is the second 5 star commitment in next year's class and 7 others are ranked as 4 stars. The other WR recruit for next year, Jake Stoneburner continued to look impressive, hauling in 12 catches for 147 yards and a TD in a 21-14 win.
Michael Brewster is the other 5 star recruit and he has helped lead Edgewater (Orlando, FL) to a 5-1 record. He is ranked 8th nationally and was selected to the Junior All-American team. Another top ranked O-lineman, J.B. Shugarts has returned from early season injuries to lead Klein (Houston, TX) to a 6-1 record. The other great lineman of this group, Michael Adams has lead Dublin Coffman (Columbus, OH) to a 8-0 record. On the defensive side, D-Lineman Garrett Goebel moved up 20 spots in the Rivals.com top 100 and now is ranked as the 54th best prospect. His Montini (Chicago, IL) team is 7-0 and the defense has pitched 4 shutouts. Another indication that Tressel gets kids from winning programs.
Ohio State's 11 recruits have the Buckeyes ranked 12th nationally, but they have the highest average of ranked recruits. 6 of those recruits are in the top 100, which is the most since Jim Tressel has been here. Hopefully these players will live up to their ranking, but The Vest is great at finding talent. Malcolm Jenkins, Little Animal, Brian Robiskie and Brian Hartline were all 3 star recruits, while Donald Washington, Anderson Russell and A.J. Trapasso were only two stars.