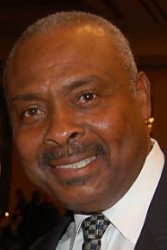 As predicted, last week's action did serve as a reality check to both Jason and myself. I managed a 2-2 result against the number while Jason rode the Paterno-Saban wagon to a 1-3 week. After 4 weeks wer're deadlocked with 11-4 records. Pretty good numbers to be sure, but the wheels are gettin' a little wobbly.
With the 11W tour bus heading to Minneapolis we approached another man of integrity, Clem Haskins, to invite him to be this week's guest prognosticator. Clem eagerly accepted the assignment and the $20 stipend that comes with it since he's behind on payments to the academic advisor he contracted to do his Gopher hoopsters' homework for the better part of 5 years back in the 90's.That said, a little academic fraud wasn't enough to keep Clem out of the Hall of Fame at his alma mater, Western Kentucky. Maybe the folks at WKU confused Clem with his twin, John Chaney.
Now on to the picks:
West Virginia (-7) @ South Florida (ESPN2 8:00) Ranked for the first time ever, USF invites a Mountaineer team with revenge on its mind to sold out Raymond James Stadium (also a 1st). The Bulls went into Morgantown last year and upset WVU 24-19 prompting the creation and sale of many a "Brokeback Mountaineer" t-shirt. Can the Bulls do it again?
Chris: WVU won't look past USF this time, but I'll take the Bulls to cover. WVU 31-26. Jason: The Mountaineers lost to South Florida last season. They won't this year. WVU 42-24. Clem: I'd wager my 1.5mil buyout on this one. WVU 35-20.
---
Michigan State (+7) @ Wisconsin (ABC 3:30) The annual MSU crash and burn would begin right about now in what seems like the past 10 years straight. Could this be the year they keep the wheels from falling off now that they've got a real coach? It's doable, but ending the nation's current longest winning streak will depend on shutting down P.J. Hill in Camp Randall.
Chris: Wisky's been inconsistent, but MSU hasn't beat anybody worth a hoot. Badgers 24-16. Jason: Wisconsin loves to play to their competition. Take Dantonio and the points: Wisconsin 21-20. Clem: Gotta take the home team, Badgers 24-13.
---
Cal (+5) @ Oregon (ABC 3:30) College GameDay heads to Oregon for what should determine the PAC 10's possible challenger to USC's conference throne. Cal's hopes could depend on the arm of QB Nate Longshore who has struggled in previous road tests.
Chris: Cal's overrated. Oregon to cover, 34-27 Jason: Dennis Dixon at home? Ducks 38-21. Clem: Oregon's uni's make my eyes hurt. Cal 42-40.
---
USC (-20.5) @ Washington (ABC 8:00) Ty Willingham's troops welcome USC to Husky Stadium relying on crowd noise and a freshman QB to make a difference. Something tells me this is deja vu all over again.
Chris: This could get ugly. USC 45-16. Jason: The Huskies could have a shot to cover -- if the USC coaches weren't telling their kids how great Locker is all week. Trojans 37-10. Clem: Half my players couldn't spell USC but I'll say Trojans in a rout, 38-6.