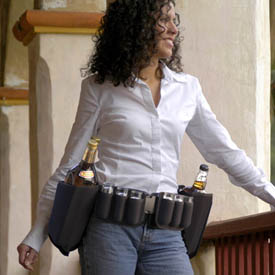 It's never too early to start thinking about tailgating gear for the 2007 season. If you're one that likes the loud-mouth soup on the heavy side, we have the killer accoutrement. Gentleman, we present the Booze Belt.
The belt features two "holsters" to store the hard stuff and "six molded ammo slots for shotgun shell glasses (included)". You can tell that there's still a little bit of Vegas coursing through my veins because the first thing I thought of was packing it with Vodka and cans of Red Bull.
At $89.99, it's a bit pricey, but you can bet the wearer of this belt will be mighty popular come tailgate/party time.
(Via Gizmodo)