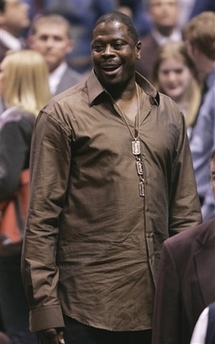 With the complete meltdown of Tar Heel Reactor 1 last night, the Georgetown Hoyas advanced to play Ohio State in the Final Four. The 15 minute stretch at the end of the game in which the Tar Heels went 1 for 23 from the field will not be fondly remembered in Chapel Hill.
Watching this game was great, because no matter who won, the Buckeyes owed the winner. A rematch with North Carolina would have given the Bucks a chance to continue their quest towards revenge symmetry, but the more I think about it, the more I'm glad the Buckeyes get to take on the Hoyas.
Second-seeded Ohio State was embarrassed by a taller Georgetown squad in the second round of the tournament last season. Roy Hibbert had 20 points, 14 rebounds and 3 blocks against a Buckeye squad that ran its post offense through 6'9" Terence Dials. With the Odenator patrolling the paint this year, you gotta figure Hibbert won't duplicate those numbers, but make no mistake about it -- Hibbert will be Oden's best test of the season.
A victory over Georgetown will hopefully lead to a chance for some further revenge against the likes of the Gators, who are quickly becoming the new Michigan. I can hear the old-timers screaming now, but based on the fiasco in Glendale, the basketball blowout earlier this season in Gainesville and the fact that the Wolverines haven't beaten the Buckeyes in anything of significance since Arnold Schwarzenegger was just a bad actor, a case can be made for more disdain directed at the Gators than the Wolverines these days in Buckeye Nation. Need I even mention Joakim Noah?
----
On a side note, for Buckeye fans that plan to make the trip to Atlanta, Brooks has put together an excellent travel guide.