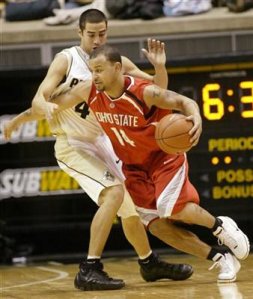 With big men Greg Oden and Othello Hunter playing with heavy hearts the OSU perimeter players came up big stopping Purdue's 12 game home winning streak to move into a first place tie with Wisconsin. The Buckeyes' sixth straight win put OSU at 7-1 in the conference. Mike Conley was sensational scoring a career high 18 points on 6-8 shooting while dishing out six assists. Backcourt mate Jamar Butler also had a terrific night, hitting 4 of 7 treys on the way to a 16 point, 5 rebound, 3 assist performance without a turnover. Daequan Cook was another bright spot posting a dub-dub with 12 points and 10 rebounds. At times, that guy is flat out unstoppable. Cook's work on the boards was a boost as Greg Oden played only 21 minutes due to foul trouble. For the game, OSU outrebounded the Boilers 36-29.
OSU led by just two at the break (33-31) after Purdue closed the half on a 12-5 run. The Buckeyes countered by starting the 2nd half on an 8-3 run to take a 41-34 lead two minutes into the second half. Purdue's Keaton Grant and OSU's Ivan Harris traded layups before Oden drew his third foul at the 15:54 mark on a homer call with OSU leading 43-36. After Purdue finally took advantage of Oden's absence and closed to 50-45, the Bucks went on an 8-0 run fueled by Oden's re-entry and threes by Conley and Butler to take a commanding 58-45 lead with just under nine minutes to play. The Buckeyes were really never threatened from that point. Purdue scored their last bucket to close to 68-60 with 2:58 left but OSU scored the last 10 points of the game as Matt Painter turned his focus to whining about every call down the stretch before the fans started filing out at breakneck speed.
For the game, OSU shot 52% from the field (30-57) including a hot 44% from downtown (8-18) while holding Purdue to 37% from the field (25-66) including a paltry 6-24 from beyond the arc. Hopefully, the confidence boost received by the OSU perimeter shooters will carryover to East Lansing for Saturday's 4pm tilt with Michigan State. The Spartans are 14-0 in the Breslin Center this season.