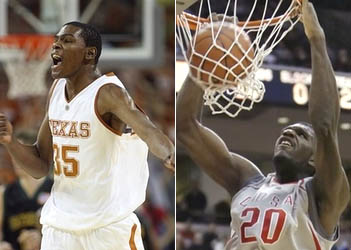 Oden vs. Durant
Going into the season, Greg Oden was every experts pick for the top freshman in the nation. Lately, some minds are beginning to change. Bevo Sports, coming off the high of Durant's 30/20 performance, think that Kevin Durant may be better than Oden.
Right now, it's kind of hard to argue with them. Sure, Block O has the injury to fall back on, but Durant is absolutely blowing up. The one upside to this: the odds that Oden will come back for another season go from 60-1 to 30-1 if he's not guaranteed to go #1 in the draft. To be sure, still a long shot, but...
A Look at Antonio Henton
Pfef concludes his 3-part series on the 2007 Buckeye quarterback contestants by examining Antonio Henton. He's a pretty humble guy and Pfef correctly points out that fans should temper their visions of Troy Smith dancing in their heads, but if he's the best candidate to open the season, The Vest will play him.
Sunny in Tuscaloosa
The Wiz points out that Alabama football is free of NCAA investigations and sanctions for the first time in 15 years. Simply astounding. Nick Saban is celebrating this in his own way.