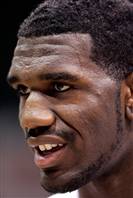 The guys at Sportspickle.com were a little tardy, but they've finally gotten into the act with a satire on Greg Oden and the fact he looks a little older than your average college freshman. Check it out to see what Matta, Conley and Cook have to say regarding the big fella. Good stuff.
In other hoops news, OSU stayed put at #6 in the latest polls. In fact, both the AP and USA Today Coaches Poll have the first twelve teams ranked in the same order. Wisconsin remains at #4 while Michigan State is the only other ranked conference team sitting at #24 in the coaches.
Lastly, while Kelvin Sampson is a cheater, he at least praises good talent. He had this to say about Cook and Conley:
"Cook and Conley are not freshmen. They are McDonald's All-Americans playing high level basketball. Arguably, they are the best at their position in the country. I thought my freshman played well tonight too, but Ohio State -­they are special kids."
Somebody has player-envy...