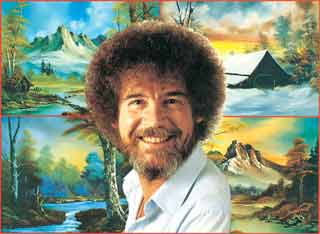 Greg Oden and Othello Hunter are becoming quite a 1-2 punch on the low blocks. The two controlled the paint like Bob Ross leading OSU to a seven point win in a typical Big11Ten slugfest. Oden set a career high with 21 points and 5 blocks including 9-10 on lefty free-throws while Hunter finished with 14 points and 6 rebounds. Indiana's big man DJ White managed 11 points and 10 rebounds but on only 3-13 shooting on an array of wild prayers that were sometimes answered by the refs.
The Hoosiers stayed in it by shooting 12-22 on threes (55%) and hitting all 11 of their free throws. Both figures were uncharacteristic of this squad which came in shooting 37% from deep and just 67% from the stripe. Indiana certainly needed those numbers on this night as they only managed 10 field goals made inside the arc. Conversely, OSU shot just 69% at the line but went 35 times, making 24, to still outscore IU by 13 on free throws. From deep, the Bucks shot just 25% (4-16) as IU controlled the tempo forcing OSU to run half court offense most of the contest.
Mike Conley Jr. had another impressive game running the point with 9 points, 10 assists, 3 steals and ZERO turnovers in his conference debut while Ron Lewis bounced back with 10 points. Daequan Cook made some defensive miscues but had his usual spectacular moments on offense including two assists leading to dunks and a big 3 that gave OSU a commanding 70-62 lead with 1:50 left. Overall, this was a gritty performance considering how many key guys were playing their first Big11Ten game. I'm sure Coach Matta will focus on perimeter defense and free throws in preparation for a brutal road trip that starts Saturday at Illinois followed up by a road contest at #4 Wisconsin Tuesday and winding up with a home non-conference tilt against #25 Tennessee.