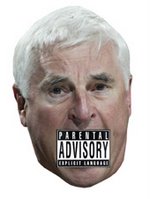 HOOPS: Former Buckeye Bob Knight notched his 876th career coaching win last night to bring him into a tie for 2nd place all-time with Kentucky legend Adolph Rupp. Based on his comments, Knight has about as much respect for that old coot as I do. I dont want to call him a racist; I figure you can do the math for yourself. Rupp coached UK from 1930-1972 and recruited his first black player to UK in 1969.
My favorite local writer, Bob Baptist of the Columbus Dispatch, has a piece on Matt Turdwiggler and how he and fellow big Othello Hunter have a great opportunity to thrive in the power-forward spot opposite Greg Oden when OSU deploys what Coach Matta refers to as OSU's "big-ball package."
Baptist also had a chance to ask Oden if he was enjoying this season enough to come back next year. Oden's reply: "Of course." Buckeye Nation certainly hopes that to be the case.
FOOTBALL: Stan White Jr. has been named a First Team Academic All-American by ESPN Magazine.
SI.com has announced their All-American squads for 2006. Troy, Alex Boone and Little Animal were 1st team selections while Quinn Pitcock picked up 2nd team honors.
Finally, ESPN's NFL expert Chris Mortensen stated on SportsCenter tonight that he feels Troy Smith is likely a late first round to early second round pick. Mortensen said some scouts feel Troy is a little short, saying he's 5-11 and that could be a factor in his draft status.