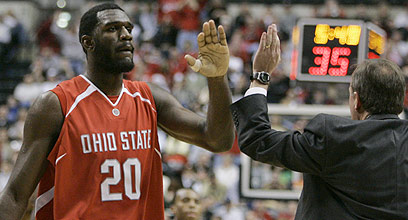 Greg Oden and Mike Conley Jr. had a happy homecoming leading OSU in a 72-50 dismantling of the outclassed Cincinnati Bearcats. The duo from Indianapolis sparked a 26-2 run to take 42-14 lead at intermission. The final margin of victory was the most lopsided in the history of the Wooden Tradition and could have been far worse if not for OSU basically sleepwalking through the last 9 minutes of the beatdown.
Oden was simply unstoppable posting 14 points, 11 rebounds and 5 blocks in 27 minutes of action while Conley turned in another impressive all-around performance notching 8 points, 8 rebounds, and 7 assists in 25 minutes. Ivan Harris chipped in 13 points, Ron Lewis 10, and Daequan Cook had 9 points and 5 rebounds but 4 sloppy turnovers. Jamar Butler was again non-existent with just 3 points.
The Bucks held UC to 26% FG shooting including just 8% from 3-point land (2/24) and posted a 46-38 rebound advantage. During the 26-2 run in the first half, OSU held UC to just 2 free throws over a span of 9 minutes as the Bearcats missed their first 13 three point attempts. The Buckeye Blitzkrieg reached it's peak midway through the 2nd half as OSU's lead grew to 35 points.
John Williamson led UC with 17 points and 16 rebounds. Jamual Warren was the only other Bearcat to reach double figures with 13.