As we count down the final hours of 2016, we look back at the top 50 Eleven Warriors posts by traffic for 2016.
50. Urban Meyer disagrees with school's decision to suspend wide receiver Torrance Gibson.
49. An emotional Joey Bosa reunites with fellow defensive linemen after Ohio State's Fiesta Bowl victory.
48. Heights, weights and drill results for Ohio State players at the NFL Combine.
47. Ohio State to wear Chic Harley-inspired throwback uniforms for Nebraska game.
46. Braxton Miller draws rave reviews in first Senior Bowl practice.
45. A look at candidates to replace Luke Fickell.
44. Shelley Meyer rings up Urban, asks him to bring home some milk in Michigan game presser.
43. Five-star linebacker Baron Browning commits to Ohio State.
42. Ohio State will wear alternate road jerseys for Oklahoma game.
41. Per a report, LSU planned to reach out to Urban Meyer, Nick Saban and Tom Herman about head coaching vacancy.
40. Braxton Miller pens heartfelt letter to Ohio State fans in The Players' Tribune.
39. Oklahoma backup quarterback Austin Kendall says Baker Mayfield will "light up" Ohio State's "basic defense."
38. In case you were wondering, Ohio State players did hear about Austin Kendall's comments.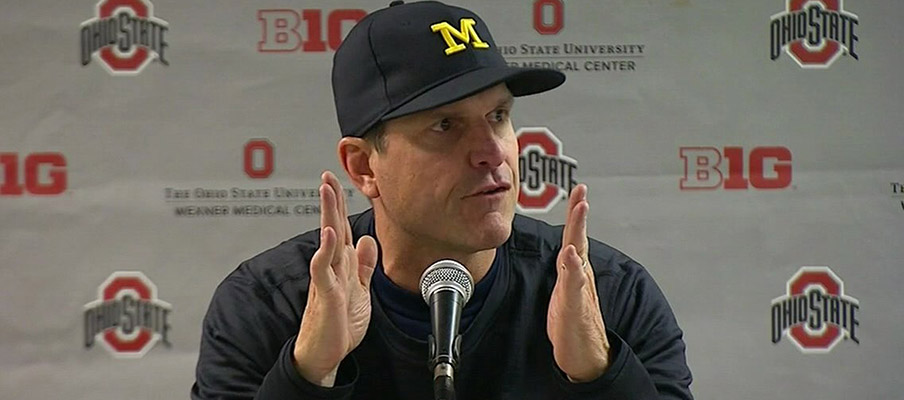 37. Big Ten issues public reprimand of Jim Harbaugh following postgame tantrum in Columbus.
36. Tate Martell throws up an O–H–I–O following rushing touchdown.
35. Ezekiel Elliott clocks an unofficial 4.46 at the NFL Combine.
34. Big Ten investigation confirms no evidence to overturn "The Spot" (and Michigan fans are bad).
33. Ezekiel Elliott leaps into Salvation Army kettle.
32. Ohio State's highlight reel from the Michigan game is 94 seconds of glory.
31. Wide receiver Torrance Gibson suspended for fall semester for violation of student code of conduct.
30. Twitter reactions to Ohio State's throttling of Oklahoma.
29. Raekwon McMillan holds "Basic Defense" sign mocking Oklahoma backup quarterback Austin Kendall's remarks.
28. Ohio State–Michigan scores massive 10.4 overnight rating, the most-watched college football game this season.
27. Pittsburgh Steelers, New England Patriots and Kansas City Chiefs eye Braxton Miller as second-round talent.
26. Four-star quarterback – and eventual Gatorade National Player of the Year – Tate Martell commits to Ohio State.
25. Ohio State's game-winning walk-off sack against Wisconsin from multiple angles.
24. Cardale Jones get drafted by the Bills, instantly rips shirt in half.
23. Michigan Man wearing AC-DC shirt melts down after double-overtime loss to Ohio State.
22. Landon Collins on Sugar Bowl loss to Ohio State: "They cheap-shotted us."
21. Ohio State ranked No. 1 in Associated Press all-time college football poll.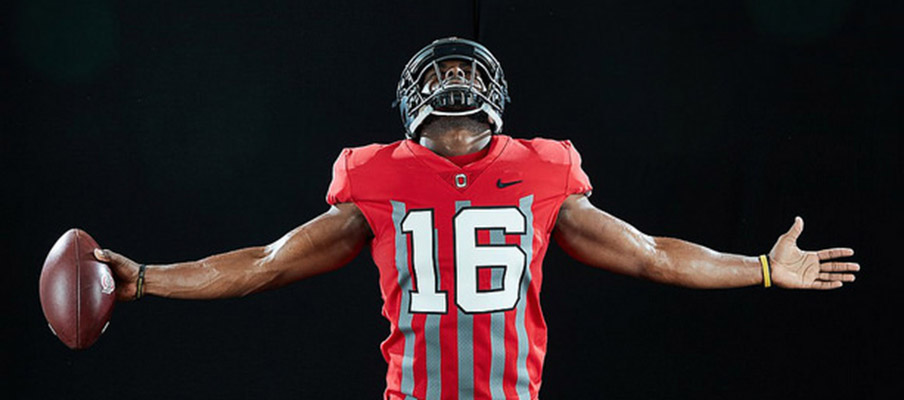 20. Photos: Ohio State's full uniform paying tribute to Chic Harley, including a textured black matte helmet.
19. Breathe easy Ohio State fans, here are your College Football Playoff projections heading into Selection Sunday.
18. Jim Harbaugh thumbs nose at NCAA recruiting rules, continues quest to sleep with teens.
17. Ezekiel Elliott to Jim Harbaugh: "You can't talk smack about a rivalry if you haven't won a rivalry game."
16. Twitter reports: Ohio State fans are swarming Norman, Oklahoma.
15. Braxton Miller clocks a 4.33 and 4.36 in the 40-yard-dash at Ohio State's Pro Day.
14. Ohio State professor wounded in terror attack: "We still beat Michigan."
13. Jabrill Peppers had a marvelous view of Curtis Samuel's game-winning touchdown.
12. Running back Br'onte Dunn dismissed from the Ohio State football team following altercation with girlfriend.
11. In mid-November, we wondered if Ohio State could still make the playoff.
10. The Ohio State–Michigan hype trailer.
9. Duke's Grayson Allen trips another opponent, throws the most Duke tantrum ever on the bench.
8. Jim Harbaugh pulls an offer to an offensive lineman two weeks before National Signing Day.
7. The "Brooklyn Dagger" created an earthquake at the Shoe.
6. Joey Bosa's message to Jim Harbaugh: "Sorry."
5. Kickoff for Ohio State–Oklahoma delayed due to weather (who knew weather updates could be so popular).
4. A massive Monday featuring the commitments of four-star wide receiver Binjimen Victor, quarterback Dwayne Haskins Jr. and linebacker Keandre Jones propels Ohio State to the top of national recruiting rankings.
3. Counting down the top 11 plays of the Ohio State football season.
2. Buckeye great Will Smith shot to death in New Orleans road rage incident.
1. Following a double-overtime loss in Ohio Stadium, Michigan's Jabrill Peppers punches an Ohio State fan.