"Who does Ohio State play on October 11th?"
"Looks like we have a bye," I responded.
"OK, great! We're gonna go to Ann Arbor for the Penn State game!" my fiancée exclaimed. 
That's how quickly it was decided. I was to spend the weekend with her and her fellow alums, visiting old haunts and tailgating with long-lost friends. But this conversation had taken place early last summer, long before students were holding vigils demanding the firing of Michigan athletic director Dave Brandon. 
We all know the story by now: the Brandon Gibbons scandal, the mishandling of Shane Morris' injuries, falling attendance and the efforts to counter it, all capped off by mounting losses. Although I spend every day with someone that truly cares about the past, present, and future of the Michigan program, I was excited to see first-hand just how bad things really were in Ann Arbor. 
Had Brandon truly alienated the entire fan base? Would the Wolverines extend their losing streak to four games? Would anyone show up to see it?
As we made the trip up I-94 towards the Southeast corner of the Great Lakes state, I knew the weekend would offer me a unique look inside one of of college football's proudest institutions.
---
Main Street was packed as we settled in for some margaritas Friday night. The main thoroughfare of "downtown" Ann Arbor buzzed, every bar and restaurant filled nearly to capacity. Every other person it seemed had a blue polo shirt, hoodie, or windbreaker, with every third or fourth one trading a maize "M" for a white lion logo.
Our evening was centered around eventually getting back towards campus and to Rick's American Cafe, an underground dance club whose main attraction is drinking neon-colored beverages as fast as possible from bowls that look like they were stolen from a Pizza Hut salad bar. As we finished up dinner, word began to spread that the lines to get into all the bars on South University were already getting long, and Rick's might no longer be an option.
Along for the ride and in no place (literally and figuratively) to make a reasonable decision, I sat back and listened to stories from friends old and new, recognizing more and more that attending a Big Ten institution offers an undergraduate experience that's fairly similar regardless of location.
I listened close as the evening wore on, waiting for the mood to shift if and when the names Dave Brandon or Brady Hoke were brought up, but it never happened. We were 24 hours from kickoff of Michigan's biggest home game of the year, yet no one really wanted to talk about it. 
The most upsetting conversation of the evening came was when it became apparent that the influx of other alumni had made getting into Rick's a near impossibility. Was the game just a cover story? Had this entire trip been an elaborate scheme just to go back to a favorite bar?
Why didn't anyone want to talk about football with me? Didn't anybody care? This is Michigan, right?
---
Upon arriving at the golf course that sits across the street from Michigan stadium with a good four hours until kickoff, it was clear we were already late. Thousands of cars and tents lined the fairways, each with their own unique collection of block "M" festooned party cups, flags, magnets, footballs, wine glasses, and more. If there was room for the insignia of the evil empire, than it more than likely was there. 
But no one seemed to be angry. The smell of grilling meat filled the air, kegs flowed, and people actually seemed to be...having fun. There were no vigils, no clear signs of anger other than the occasional squabble over who was next on the beer pong table.
It took a ten minute conversation about the current whereabouts of Tate Forcier to finally invoke the passion I had been waiting to see. 
"The day we fired him, I knew Rich Rod would be successful somewhere else. That very day," said one alum at our tailgate. "Look at him now, he's in exactly the right situation. He's got no pressure on him."
The alum would go on to tell me how he didn't want Dave Brandon near another coaching search, and that even though Michigan clearly needed to part ways with Rodriguez back in 2010, the current situation felt even worse than his final campaign that fall.
"I have spent a lot of money in there," he said as he pointed across the street toward the stadium. "I've spent a ton of money to travel to watch them play, thousands of dollars. What do I get in return though? I'm actually not even going to the game tonight" 
I pressed on, asking why he was willing to travel to Ann Arbor for the weekend, but unwilling to actually go to the game. 
"I'm tired of getting treated like a dollar sign by the athletic department. Give me something worthwhile to watch, don't keep looking for ways to reach into my pockets. I'd honestly rather just stay here and tailgate, then watch from a bar."
To make his point further, he proclaimed that he and a friend would only go to the game if someone paid them to do so, hoping to finally get a return on their investment.
"I'm from Pittsburgh, so I'm used to seeing my pro teams fail," another fan told me a few minutes later. "I know what it's like to be ambivalent about your team, but I've never felt that way about Michigan before."
But as we approached the stadium just minutes before kickoff, this ambivalence didn't seem to be spreading. Thousands of people were chanting "Go Blue" and finishing the last sips of their drinks before heading in. This didn't feel like a collection of people that were upset with the current state of Michigan football, in fact, there was a feeling of optimism. They all believed that they could win, and at that very moment, the failures of Dave Brandon seemed no longer as important.
---

"Hi, I'm Norm" the gentleman sitting next to me said about halfway through the first quarter. Like everyone else, he had jumped out of his seat and looked to high five anyone around him when Devin Funchess hauled in a touchdown pass that should've been an interception, giving the home team a 7-3 lead.
"It's OK, you can cheer for you own guys. I don't mind." he told me after noticing I hadn't put much effort into my high five. I explained that I was a casual observer that night, here to support my fiance's team while mine was on a bye week. 
"Oh, you're an Ohio State fan, huh?" he said. "I'm from Toledo, so I'm surrounded by you guys. I had a feeling you weren't here to see us, but that's really nice that you came up here with her anyway."
Norm appeared to be in his sixties, and would go on to explain how he's had season tickets for nearly twenty years. He drives his RV up to every home game, still looking forward to every single one, even lately.
Tonight was different though. Norm's three kids, all grown, all UM alumni themselves, and all spread out across the country, had returned for this game. 
"It's rare that I get them all in one place at one time, so tonight's special."
Near halftime, he offered me a pull of the water bottle full of Jack Daniel's that he had smuggled in.
"Normally I just bring in one of those little airplane bottles, but this year you've got to be a little more prepared" he said with a laugh. Regardless of the score, Norm was genuinely happy to be there.
---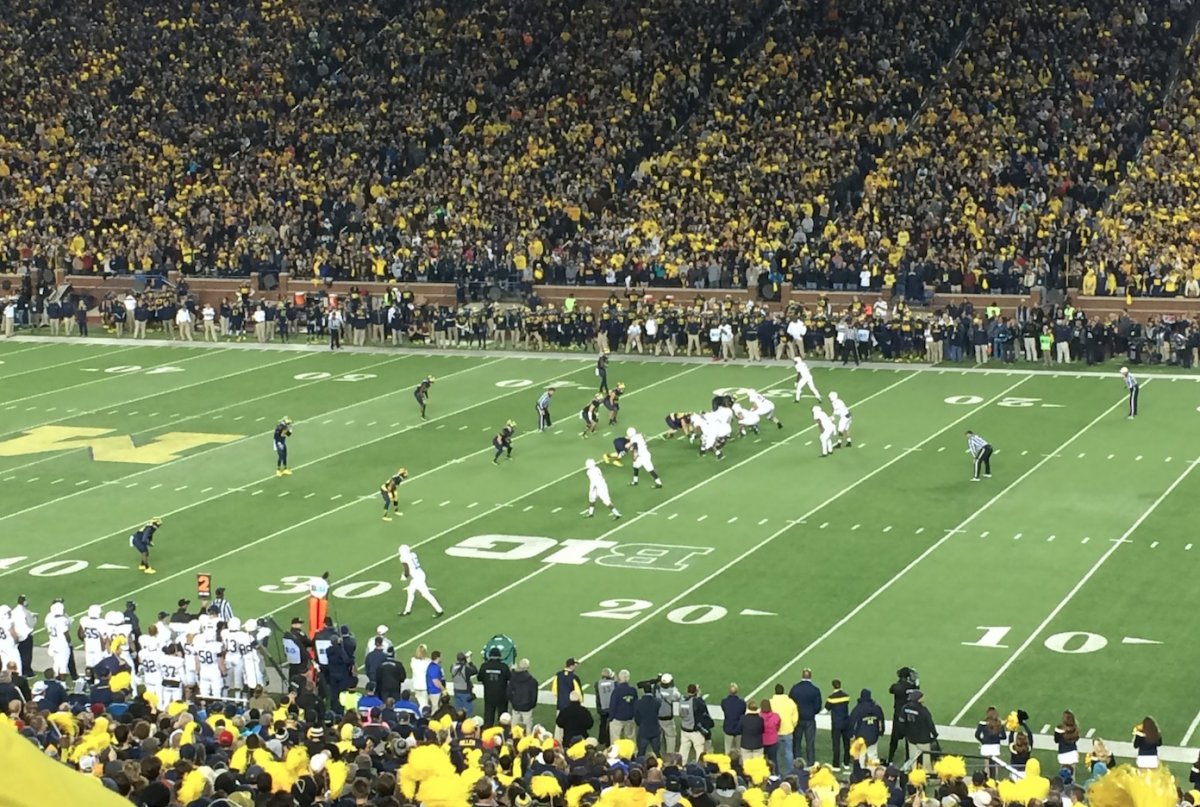 It was a brutal contest. Poor offensive line play led to nine sacks and pitiful performances from both running games. Neither the Wolverine nor Nittany Lions were able to consistently move the ball. 
The game featured five field goals and ten punts which, when adding in a chilly fall night, could have easily led to a very disengaged crowd. But thanks to some late game excitement and Dennis Norfleet's dance moves, the fans stayed involved, standing and cheering on every third down. No one seemed to leave early, and when Blake Countess recovered Penn State's onside kick attempt with 1:41 left in the fourth quarter, the celebration could begin.
Norm shook my hand as we left our seats, clearly looking to stick around and take in a moment that he hoped would never end. Tens of thousands of others did the same, savoring a home victory that had recently become more rare.
The moment felt very familiar to me as we walked back towards South University. Not because I have been to a night game in Ann Arbor before, but because it reminded me so much of a night I experienced in 2011 at the Horseshoe. 
Braxton Miller's hail mary to Devin Smith with only a few seconds remaining to beat Wisconsin was the clear highlight of an otherwise dismal Buckeye season. Many Ohio State fans like myself have blocked that year from our memories, focusing instead on where we've come since then. 
The hiring of Urban Meyer reset the course for the Ohio State football program the following winter, and we've never looked back. The bumbling press conferences from Gene Smith and Gordon Gee seem like they happened ages ago, and the sting of losing Jim Tressel to #Tatgate has long since worn off.
It's more than clear that Brady Hoke is in over his head at Michigan, and a change in leadership is needed to get the program back to its previous heights. But the tradition that is "MICHIGAN" hasn't gone anywhere. While other former football powers cope with similar struggles on the field, the Wolverines still packed in 113,000 people to watch what would be a terrible game.
The biggest threat to keeping this tradition alive is another poor head coaching hire. The past few graduating classes in Ann Arbor have had only a handful of positive memories while sitting in the seats of Michigan Stadium. How should they be expected to continue the traditions of Wolverine football if their only exposure to it has been mediocrity?
Marketing and public relations blunders aside, making the right hire to lead the Michigan program in 2015 and beyond is the biggest task ahead for the self-proclaimed "leaders and best." Whether it's a Harbaugh, Les Miles of LSU, Dan Mullen of Mississippi State, or someone yet to come on the radar, whoever takes over in Ann Arbor next fall won't have to do much to win back the fans.
This is still clearly a group that cares about their university and the team that is its most visible public image. Though Brandon and Hoke have certainly upset the alumni and fans, they have yet to drive them away.
---
As we marched toward the bars after the game, the campus was alive. Student house parties were blaring music into the streets as kids danced over crushed beer cans and empty solo cups on their front lawns. The group texts of "where should we meet?" had begun flying around, looking to extend the night as long as possible. 
Michigan is not broken, nor is it going anywhere at any point in the near future. Though the current caretakers aren't living up to the high standards heaped upon them, the likelihood of the program as a whole sliding toward eternal mediocrity is unlikely. With hundreds of thousands of living alumni, the tradition of "Michigan" is bigger than any one person.
I had honestly not cared who won the game, but was excited afterwards that the home crowd had pulled it out, regardless of how painful it had been to watch. Ann Arbor is a fun town, much the same way Madison, Bloomington, and State College are, and the victory gave the streets an adrenaline boost. 
My fiance and her friends all had smiles on their faces, knowing that this night would be tacked on to the list of memories they'd made on that campus, and still excited to see how it might finish. As much as we as fans obsess over championships, recruits, schemes, and press conferences, those few moments after a big win are the reason we care. 
We'd end up finishing the evening a few hours later at a campus bar, riding the wave of emotion that had overtaken the area. This time though, the Nittany Lion fans that had been out the night before in droves seemed to have disappeared. It was an odd experience to be there without having to defend my choice of attire, having opted for a neutral gray sweatshirt. 
But even if I had been wearing a Braxton Miller jersey, I have a feeling that no one would've cared. That night wasn't about the rivalry with Ohio State, just like it wasn't about Dave Brandon. That night belonged to the thousands of Wolverine fans ready to forget about that for a little while.
Undoubtedly today the rumors will strike up again, and the fans and media alike will speculate about who might move into Hoke's current office in a few months. But for one weekend, Michigan fans got to feel like winners again. 
---