Football players aren't the only students at Ohio State who are waiting to hear whether they'll be allowed to perform on the field at Ohio Stadium on Saturdays this fall.
As it remains uncertain if and when this year's Ohio State football season will begin due to the COVID-19 pandemic, the Ohio State University Marching Band has also been left in a state of limbo, as the band typically plans its year around the football schedule.
Much like the football team, though, The Best Damn Band in the Land has adapted throughout an unusual offseason to position itself as well as possible to be ready to perform to its usual standard whenever it gets the green light to return to action.
"It's been extremely challenging," band director Christopher Hoch told Eleven Warriors on Wednesday. "We still don't know a lot. The football folks are in the same boat. There's a lot of people just wondering what's gonna happen, what things are gonna look like here in a few weeks, and we are preparing for any possible scenario. But I think just not knowing is the biggest challenge right now."
Because the pandemic has kept band members away from campus since March, TBDBITL's preparation for this fall has been different than usual. While the band typically begins live summer sessions during the second week of June, all of their preparation has been done virtually this summer through video training and weekly webinars.
Drum major tryouts were held virtually in May, and music auditions for both veteran band members and new candidates are also being conducted through video submissions. Depending on whether the first home football game is scheduled for before or after Sept. 12 and whether the band will be performing at that game, marching auditions could also be conducted through video submissions, as band members won't be back on campus until the fall semester starts in late August.
That said, Hoch said the band has stayed on a normal schedule this summer as far as what he and his staff have been teaching and when – just doing so digitally rather than in person – and he has been pleased with the way his staff and student band leaders have adapted to difficult circumstances.
"I think every day since this started in March, it's just been a matter of we are all extremely dedicated to this program, extremely dedicated to the marching band," Hoch said. "The band at Ohio State's been around for 143 years, so we are fully aware of the tradition and the expectations and everything. So I think all of us are just dedicated to finding a way to make this go, and to persevere through this."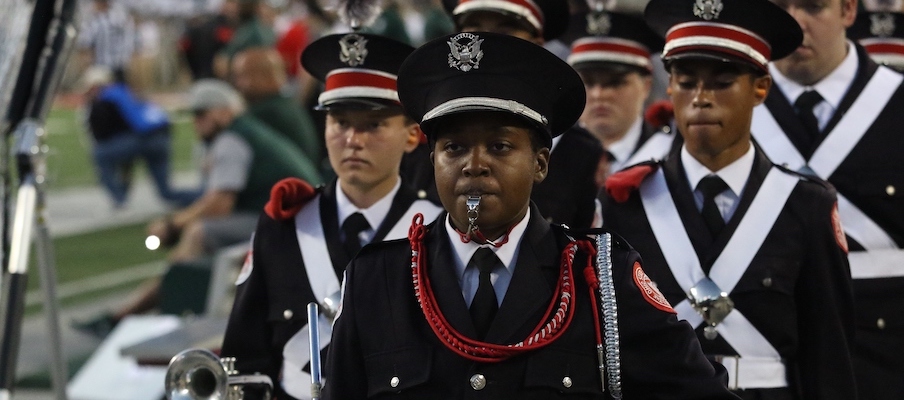 Assuming the band is still able to perform at football games this fall, it won't be without some significant changes in place. Hoch said band members will attempt to maintain six feet of physical distance from each other while marching, which means Script Ohio and its other formations will look different. The band is exploring the possibility of wearing masks with openings that will still allow them to play their instruments, while bell covers will also be placed on instruments to prevent aerosol transmission. There won't be any pregame Skull Sessions inside St. John Arena, and there won't be 100,000-plus fans in the Shoe cheering them on; at most, there will be about 20,000.
As evidenced by its many halftime shows that have garnered widespread attention even outside of Columbus, though, being creative is nothing new for TBDBITL. So Hoch says he and his band will be ready to embrace the challenges they'll have to deal with, though they'd love to have a better idea of exactly what those challenges will be.
"I think all of us on the staff are in the business of being creative, that's what we do, that's our job. So I do enjoy that challenge, the problem-solving aspect, trying to be creative and adapt and do new things to move the band forward," Hoch said. "It just gets frustrating not having information, and I think that's the way a lot of folks, pretty much everybody feels. And it's no one's fault, it just is the nature of the world we live in."
"The band at Ohio State's been around for 143 years, so we are fully aware of the tradition and the expectations and everything. So I think all of us are just dedicated to finding a way to make this go, and to persevere through this."– OSU Marching Band director Christopher Hoch
Regardless of whether there's a football season this fall, the band will march on. Hoch says there will be a marching band this year no matter what happens with football, and they will find a way to do something this fall even if they don't get to perform at football games. Even with physical distancing guidelines in place, Hoch says the band is still planning to have a full roster of 228 students this fall unless directed otherwise by Ohio State's administration, which has not happened yet.
Hoch said there have been a few returning band members – "not a lot, but a few" – who have informed him they will opt out this season due to concerns about COVID-19. For the most part, though, Hoch believes his students are as ever to upholding the band's tradition and to make their 2020 season a success, even though it will surely be different.
"I get the sense from a lot of our students that they're kind of taking a wait-and-see approach, trying to figure out what they're going to do, what's in their own best interest, as well as the best interest of the organization," Hoch said. "But our student leaders have been working hard to persevere through this. Obviously everybody involved wants to make the season as successful as possible given the circumstances."