Time and Change is a weekly series highlighting the history of some of Ohio State's storied traditions.
THEN
"Buckeye" has been a long-standing nickname for Ohioans dating back as early as the late 1700's, but when it came time to decide on the mascot representing The Ohio State University, many questioned if the Buckeye was the right fit.
Many universities used live animals as their mascot and in 1930, the student government debated if the Buckeye was aggressive or fierce enough to keep up with this trend. In October 1965, students Ray Bourhis and Sally Huber suggested the Buckeye as the university's mascot in lieu of a live buck.
Thus, on October 30, 1965, the oh-so-creepy papier-mâché Buckeye mascot was introduced at the Homecoming game against Minnesota. The design was crafted by Ray Bourhis and Ohio Staters, Inc. The design was updated two-weeks later by adding bushy eyebrows to a smaller and lighter fiberglass dome, but it still weighed in at 22-pounds.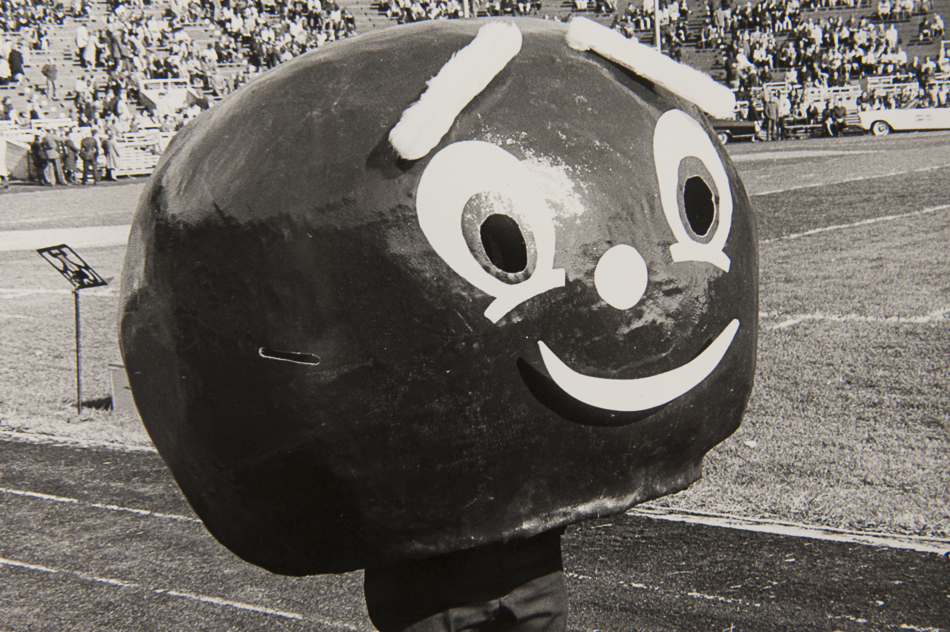 On November 18, the Buckeye mascot was dubbed Brutus Buckeye, a name submitted by Kerry Reed in an on-campus contest.
Block O was responsible for Brutus at this time. But, in 1975, Brutus was made a part of the Ohio State Cheerleading team after controversy over whether Block O would send Brutus to the Rose Bowl.
1975 was also the year in which an updated Brutus costume was introduced. It was just a mascot head that I would describe as, an evil Brutus with an even creepier facial expression. This mascot design lasted a whopping two games and was changed back to the original fiberglass full body dome after pushback from fans.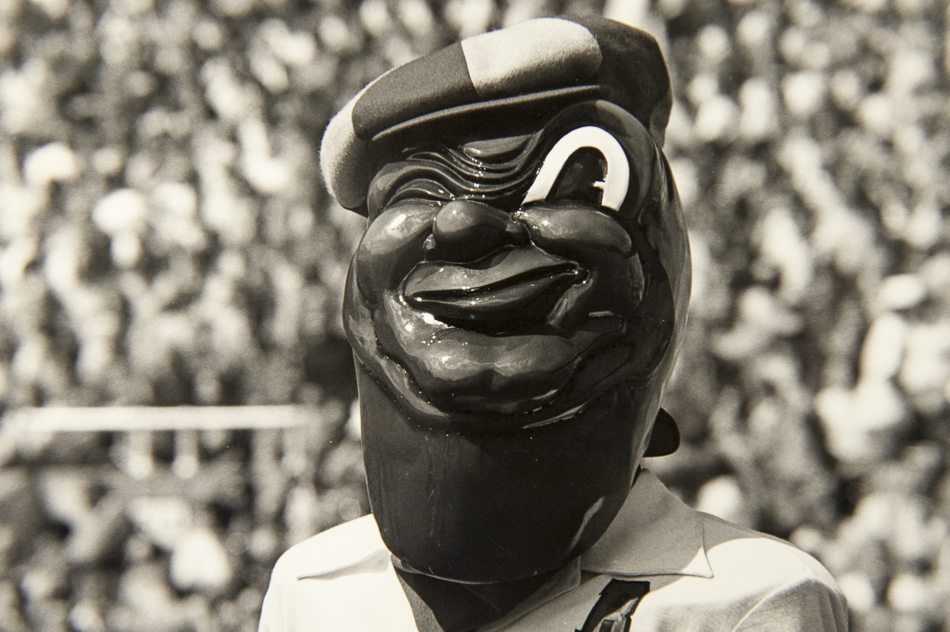 Brutus changed again in 1977 to a slimmer frame and wearing a "Block O" baseball cap. The costume was much heavier than the original, weighing 80 pounds. The first female Brutus, Sandy Foreman, was the first person to wear this new costume, and I couldn't imagine the difficulty.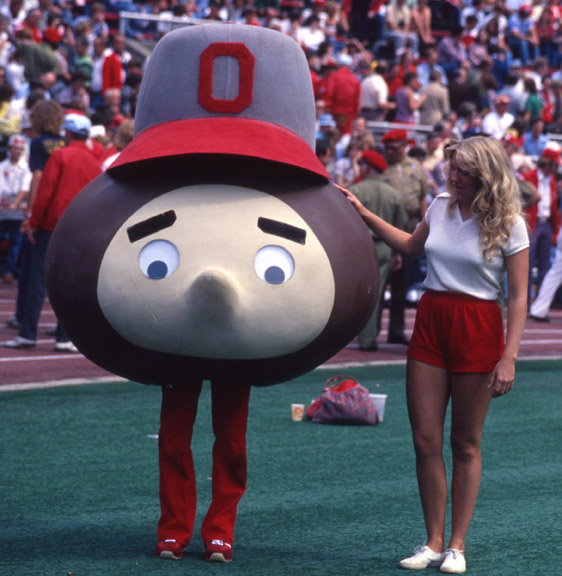 In the Spring of 1981, mascot tryouts at Ohio State commenced. Instead of Brutus being chosen directly from the cheerleading team, 45 people competed to perform as the recognizable mascot. In Fall of 1981, Brutus transformed once again into a much lighter mascot head.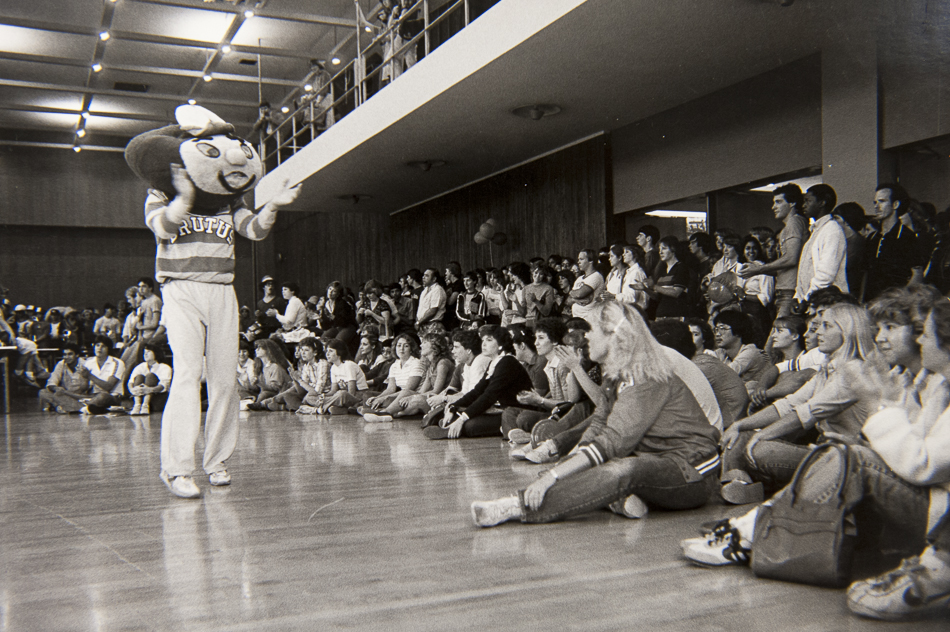 In 1982, Brutus hit the gym and donned a scarlet and grey striped shirt with the number 00 on his back and Ohio State embroidered down the side of his pants, very similar to the outfit he wears today.
NOW
Approaching his 54th birthday, Brutus is still as lively and energetic as ever. The tryout process is very rigorous and those given the honor of putting on the mascot head are sworn to secrecy during their tenure.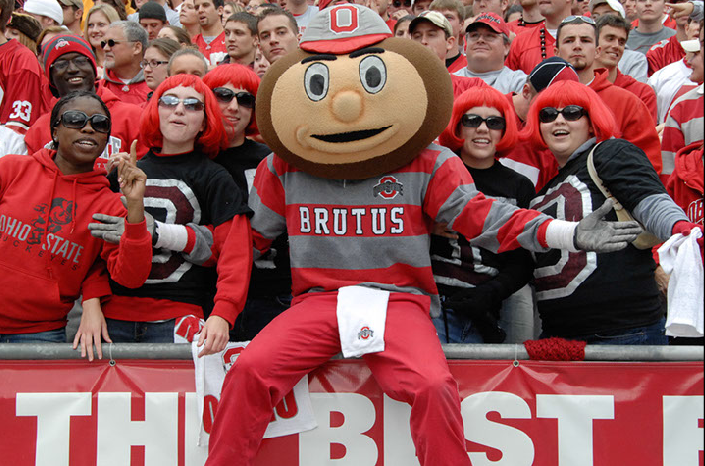 He's won many awards over the years, including a National Championship title in 2019, and was inducted into the Mascot Hall of Fame in 2007. Brutus even has his own Twitter and TikTok account where he posts videos like these.
Submitting my application to be an Assistant Coach #GoBucks pic.twitter.com/a0BqcvSZ4a

— Brutus Buckeye (@Brutus_Buckeye) October 9, 2019
Whether he is doing pushups for points in the north end zone, spelling out "Ohio" with his legs while standing on his head or running around campus, Brutus Buckeye is one of the most recognizable faces of Ohio State.